Construction began at St. Louis Catholic Church this month to relocate and expand the parish offices. The addition - which will add 2,100 square feet and consolidate the offices - should be complete by July.

According to Father Richard Liesen, the project fulfills a dual purpose. "It's time to move the offices out of the rectory," he said, "so my successor has something of a house to himself."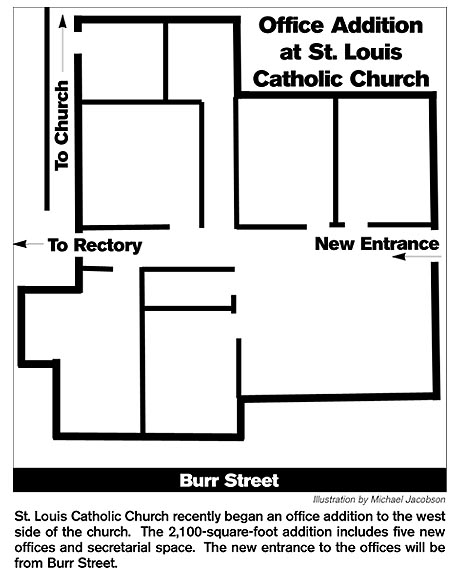 Both the addition - located on the west side of the church - and the rectory will have doors that open to the street as well as into the church. When finished, the expansion will house the current parish staff with extra room for personnel growth. The addition will provide separate offices for the pastor, the director of faith formation, the youth minister, and the deacon; will include a meeting room; and will provide space for up to three secretaries and volunteers.
Though the plans were approved last summer, the project was actually part of a wish list of church improvements envisioned five years ago, said Father Liesen. The church's building fund will pay for more than half of the project's $195,000 cost, while the rest will come from a bank loan or another church fund.
Initially the parish council and the financial committee had hoped to keep the project cost under $200,000. Now that construction is under way, Father Liesen believes they may even come in under budget. The building committee - Steve Sullivan, Mary Burlingame, Gerry Mehr, Dave Schutz, Joe Voss, and Judy McCoy - was formed in August 2002 to oversee the daily progress and expenses.
Once the project is completed, the new brick veneer facade should blend seamlessly with the current building. "It'll look like it's always been here," said Father Liesen.
Another benefit to the construction, said Father Liesen, is that nearly all of the contractors and suppliers are not only local businesses but also parishioners. "Everything was done locally," said Father Liesen. "It's nice when you can do that."
---
Contact the author at editor@paynesvillepress.com • Return to News Menu
Home | Marketplace | Community
---