Damage to the #2 green at Koronis Hills Golf Course was discovered on Monday morning and reported to the Paynesville Police Department.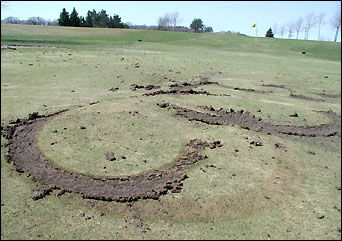 Someone drove a four-wheeler across the green, making several circles and digging into the soil, in an apparent act of vandalism.
The damage was done over the weekend, most likely on Sunday. Greens superintendent Brad Deyak drove around the course on Sunday morning and did not notice any damage.
A four-wheeler damaged the #2 green at Koronis Hills Golf Course over the weekend, most likely on Sunday afternoon. Police are investigating and are seeking for any suspicious activity over the weekend.
While the golf course has been damaged before, most recently by a truck driving into the #7 fairway, Deyak said the damage to the #2 green is the most severe he has seen as greens superintendent at Koronis Hills since 1998. Both the damage to the #7 fairway (and damage to the #11 and #13 greens by snowmobilers prior to that) was repaired when the grass regrew.
This time, the damage is so deep that the entire root system of the grass is gone, said Deyak.
Instead, maintenance workers will need to plug, or repair the damage areas with sod, taken either from the edge of the greens or from the extra green. Deyak predicted it would take maintenance workers at least 15 hours to plug the damaged spots.
Until the green is repaired, golfers will need to use a temporary pin in the fairway on the hole.
"You're going to see that all through the summer," said Deyak.
Depending on how successful the repairs, the damage may be noticeable for years, added assistant superintendent Jason Ruhoff.
The Paynesville Police are investigating the incident. Anyone that saw any suspicious activity at the course over the weekend or any four-wheeling in the area should report it to the police by calling 320-243-7346.
---
Contact the author at editor@paynesvillepress.com • Return to News Menu
Home | Marketplace | Community
---