Jones, Garding receive Lions Service Award
This article submitted by Linda Stelling on 4/21/99.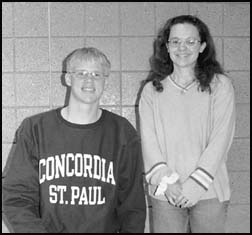 The April recipients of the Paynesville Lions Service Award are Amy Garding and Josh Jones.

The Paynesville Area Lions Club initiated the service awards to recognize seniors in high school who have demonstrated outstanding character during the school year by offering their time for the benefit of others. The spirit of service is a core value of the Lions Club, and the award is intended to encourage this in students.

Each recipient will receive a $350 service award to be used for further education.

Amy is the daughter of Mike and Rita Garding, Lake Henry. She volunteers her time during study hall to go to the elementary school to help Early Childhood Education students. Amy also volunteers her time with the students during their summer sessions. She is a peer helper in the school and teaches religion classes at St. Margaret's Catholic Church in Lake Henry. She can also be found working at the Paynesville Area Health Care System.

Amy is a member of the choir. Next year she plans on attending Ridgewater Community College in Willmar.

Josh Jones is the son of Neil and Inez Jones, rural Paynesville. He volunteers his time teaching Sunday school and Bible school at St. Paul's Lutheran Church, Eden Valley. Josh also helps with the youth group and helped organize the Harvest Party.

He is a member of the National Honor Society, Target Leadership, letter club, and is a D.A.R.E. leader. Josh does peer tutoring in the middle school, plays in the concert, pep, and marching band.

Josh was captain of the basketball team and received All Conference honors. He also received All Conference honorable mention for his accomplish-ments on the football field and is captain of this year's track team. As a junior, Josh received All Conference honors in track. He represented the Paynesville Area School District as a Triple AAA Award candidate.

Josh plans to attend Concordia College, St. Paul, next year.
---