Bork built 'Bork Town' from scratch
This article submitted by Linda Stelling on 4/21/99.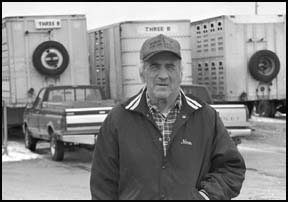 What started out as a bare field, Norman Bork built what many people refer to as "Bork Town."

"I'm the self-proclaimed mayor," he jokes.

What started with one building, now includes about 14 buildings of varying sizes and shapes. Bork said two of the older buildings will probably be torn down this summer and replaced.

Bork sold his farm in 1968 and started trucking about 1970. In the 1980s, he started his lumber business. "When I hauled freight to the Twin Cities, I would bring a load of lumber back on my return trips.

He bought the livestock and freight hauling business from Kermit Olson. In the 1970s, he purchased his present business site from Lawrence Liestman.

"I changed sites because I needed more space," Bork said.

"I saw the need for another lumberyard in the area. Fullerton Lumber was cutting back on business and there was no other lumberyard in the area at that time," Bork said.

Bork said the lumberyard grew very fast. He built other storage buildings with left over lumber from various jobs. Among his oldest buildings is the former school from Lake Henry. He moved the school to Bork Town 16 years ago. Another of the buildings was moved in from St. Cloud.

Bork has moved buildings, dug graves, sold seed grain, and sold lumber over the years. Among his moving projects have been silos, sheds, houses, and even a small church by New London.

"I probably dug graves for about 12 years. I started when I was still farming," Bork said. He has been selling seed grain and grass seed for more than 30 years. "I average 4,000 to 5,000 bags a year," he added.

He also buys and sells hay and straw across the country. Bork purchases the hay and straw from local farmers.

Among his most unusual moving requests was to move a body from Litchfield to Texas. "The family moved to Texas and didn't want to leave their son behind who was buried at the Zion Cemetery. So I dug up his casket, loaded it on the truck along with their furniture and car, and hauled everything to Texas. It was probably one of my longest trips as well," he added.

The biggest object that Bork moved was the warden's house (a three-story building) at the St. Cloud Reformatory.

One of the more complicated moving projects was the former Eden Valley Depot. Bork first moved the depot from Eden Valley to the Roscoe area where it was used as a supper club for a few years. Then in 1981 he was hired to move the depot to Waite Park.

"It took 45 wheels under the depot to move it to its present location along I-94 (the antique depot). We had to travel by way of St. Nicholas because the depot wouldn't fit over the river bridges at Cold Spring," Bork said. He also recalls having to place small rocks under the tires to make the turns. "The rocks helped the tire skid around the corners," Bork added.

Bruce Bork went to work for his dad in 1972. In 1985, the livestock portion of the business was purchased by sons Bruce and Doug and a son-in-law Kevin Bruntlett, forming Three B Trucking.

Norman recalls that on one moving trip when they were bringing a dog and car to Minnesota, Les Snyder went to walk the large dog, instead the dog took Les for a walk. Les had taken the dog around behind a house and both fell over a retaining wall a cliff, according to the stories told. It is a trip neither of the two men will forget.

"I'll never forget how Les learned more about a family we were moving than the family probably knew about themselves," Norman said.

"Paynesville is the best area to do business," Bork said. "The people in this area have patronized us for many years and we think we have saved them considerable dollars on their building and moving needs."

Three years ago, Norman Bork sold the lumberyard portion of his operation to Don Frank. Frank had worked for Bork prior to his purchasing the lumber business.

Norman, 73, who was diagnosed with cancer in February and started chemotherapy on Monday. He can still be found at work answering phone calls and making appointments to move people to new homes. Norman still buys and sells hay and straw and his seed grains for spring planting.
---