Junior Caitlin Lien competed at the Class A state speech meet on Saturday at Bloomington Jefferson High School.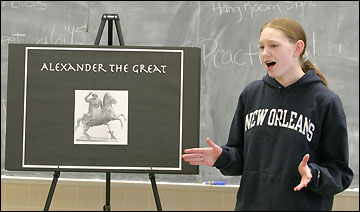 Lien tied for 17th (out of 24 competitors) in informative speech.
Junior Caitlin Lien competed at the Class A state speech meet for the second year in a row in Bloomington on Saturday in informative speaking.
It was the second straight year that she had competed at state in informative speech. Last year her topic was "Dreams," and this year her topic was "Alexander the Great."
During her presentation, up to eight minutes, Lien described the ancient Macedonian king, including his childhood, his reign as king, and his ten-year journey of conquest (from 334 to 325 B.C.) that took him from Greece to Africa and Asia and "immortalized him in history," according to Lien.
She researched her topic and wrote her speech, using photographs and diagrams to help her informative presentation.
At state, the competitors competed in three rounds with eight competitors in each round with a different judge. Lien ranked seventh, second, and seventh in these rounds.
In the second round, her best round, Lien placed second, topping the defending state champion (who placed second this year), another state placewinner, and a state placewinner from a year ago.
Chris Edelbrock of St. Cloud Cathedral, a section rival of Lien's, won the Class A informative speaking this year.
Lien placed first at subsections in March and third in sections in April to advance to state.
She was the ninth PAHS student to compete at the state speech meet in the past four years. In 2002, Melissa Andrie and Hannah Felling competed at state. In 2003, Courtney Colbert, Peter Schreifels, and Sami Tierney competed at state. And in 2004, Andrie, Callie Frieler, and Lien competed at state.
Junior Emily Mehr (fourth at sections in humorous speech) and senior Amanda Kern (fifth at sections in extemporaneous reading) were alternates to the state meet but did not get to compete.
---
Contact the author at editor@paynesvillepress.com • Return to News Menu
Home | Marketplace | Community
---