Angie and Jason Varholdt purchased the James Street Coffee Company in January from founding owners Dan and Michelle Johnson and Kim and Tory Tish.

Angie, who previously worked at home as a mortgage broker, had worked at the coffee shop for six months, just as a way to get out of the house and meet people. "I loved coming here a couple times a week," she said.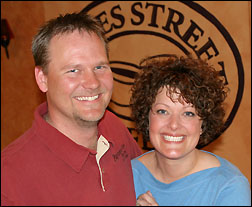 She was, however, apprehensive about purchasing the business because she knew that being a business owner would involve great responsibilities. "It was going to turn my fun into a job," said Angie, who describes herself as a coffee connoisseur for years.
Eventually, she was convinced by Jason to purchase the business. They closed the coffee shop for three days in January to paint it and to redecorate, including adding several comfortable chairs. They still are planning to build a back patio.
Owning a business includes all the behind-the-scenes work...organizing shifts, ordering, planning, paperwork, etc. Now Jason - who helps at the shop three mornings per week, in addition to his full-time job as a salesman at the Paynesville Sports Center, gets the fun job of meeting and waiting on customers, while Angie handles most of the business aspects.
The Varholdts have changed vendors, hired and trained new employees, reworked the menu, and added Sunday hours since taking over the coffee shop.
Many of the menu choices were streamlined in an effort for a quicker turnaround for customers. In this fast-paced society, time is valuable, they realized. A streamlined menu makes ordering quicker and makes fixing meals quicker.
For sandwiches, for instance, they now offer six choices, hopefully good ones, the most popular offerings, said Angie, who now keeps tickets to track sales.
The coffee shop still relies on customer service. Regulars, the Varholdts note, like to have their own drink, which is the way a coffee shop is meant to be, not 100 people drinking the same coffee from a same pot. "That's what we're all about," said Jason, who added that they appreciate feedback. "If we don't know...we can't fix it."
They have nine employees, at the coffee shop, including their son, Curt.
Tory Tish still operates his coffee roasting business, Midnight Roastery, in the same building on James Street. He has been a great source of information, about the operation of the coffee shop and about ideas for it, since he has visited hundreds of coffee shops for his business, said Angie.
The coffee shop hours are 7 a.m. to 6 p.m. on Mondays through Fridays and 8 a.m. to 5 p.m. on Saturdays and Sundays. The Sunday hours are new.
Both Angie and Jason hail from the Twin Cities orginally. They have lived in Paynesville for a couple years, having previously lived in Richmond, and praise Paynesville for being a great community. Away from work, they enjoy fishing, snowmobiling, and other outdoor activities, including spending time at the northwoods cabin, near Park Rapids, that they built last summer.
---
Contact the author at editor@paynesvillepress.com • Return to News Menu
Home | Marketplace | Community
---