Concert is cancer patient's dream
This article submitted by Michael Jacobson on 4/19/00.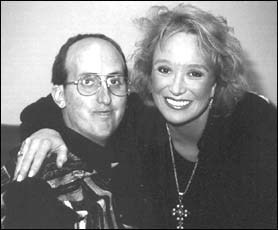 Tony Hawkinson, a lifelong fan of country music, attended his first live concert on Friday night, April 7. Barring a miracle, it will be the only concert he ever attends.

Hawkinson, 29, of Eden Valley was diagnosed with terminal cancer in February. The cancer has spread to his lungs, pancreas, liver, spleen, and back, and possibly his bones. The cancer is inoperable, and Tony,pictured with Tanya Tucker,chose not to have treatments like radiation and chemotherapy, because he felt they would just make him weaker without prolonging his life significantly.

Tony first saw his doctor at the Paynesville Area Medical Clinic last fall with flu-like symptoms. After Christmas, x-rays discovered the existence of a tumor, and CT scans and a liver biopsy revealed the extent of the cancer, which is growing rapidly. Tony received most of his health care from the Paynesville Area Health Care System.

The news of Tony's cancer in February came on the heels of another family tragedy, as his stepfather, Leo Espelund, died the week before. "He was buried on Saturday," explained Tony's mother, Judy Espelund, "and they told Tony he had terminal cancer on Monday."

Declining health
"Since the middle part of January," said Judy, "his health has gone down."

Because of the cancer, Tony, who has a history of emotional problems and seizures, had to give up his apartment and move in with his mother. Tony worked at odd jobs before the illness and was especially proud of obtaining his driver's license. He helped look after his stepfather during his illness and drove him to doctor's appointments so Judy could stay at work.

Cancer has taken the independence that Tony strived for, and Judy has taken a family medical leave of absence from work to care for Tony. "She's been great," Tony said. "Whenever I've needed her, she's been there."

Tony takes morphine patches and painkillers. "The medicine he's on is basically to keep the pain under control and keep him comfortable," said Judy.

They don't count days, she added, just hours. She praised her son's positive outlook, but Tony admitted, "Most of the time, it's hard."

A dream concert
The hospice office at the Paynesville Area Health Care System, which has been providing support for Tony and Judy, contacted the Dream Foundation in California, which set about making Tony's dream come true.

He wanted either to visit Branson, Mo., for a country concert, to ride in a monster truck, or to go to Florida, but his health limited his options. "He settled for the Tanya Tucker concert at the Grand Casino in Mille Lacs," said his mother.

"He loves country music," she added. "He can't carry a tune in a fruit jar, but he loves to sing."

"I'm putting everything into Friday night," Tony said before the concert.

Last week, his mother reported that the concert was a great success. Tony, Judy, Angel, Tony's 10-year-old niece, and a friend attended the concert. They were treated to dinner and seats in the fifth row.

Before the concert, Tony got to meet Tanya Tucker backstage in the green room, where he requested, "Cotton-fields." Tucker, according to Judy, said she had just considered putting that song back in the set list, but hadn't yet, so she sang it for Tony backstage.

Tucker gave Tony a signed copy of her autobiography, several T-shirts and signed publicity photos, and CDs and tapes of her music. "She was really fantastic," Judy said. "I was really impressed with her and her band."

Tony was able to stay overnight compliments of the hotel, which helped make the trip possible.

Hospice
The dream concert isn't the only help that Tony and Judy have received from the local hospice, which is affiliated with Rice Memorial Hospital in Willmar.

Hospice provides holistic services to the terminally ill, according to Judy Dunlop, social worker, including nursing, physician care, social work, volunteers, and clergy. It is available to people at the end stages of cancer, heart disease, diabetes, and other diseases. Referrals can come from friends, families, or doctors.

Hospice has helped Tony by providing home health care, by getting his medicine, by having a volunteer help at home a couple hours a week, and by having a bed available at the hospital where Tony can stay if Judy can't care for him for a day. "It would be impossible," Judy said of life without the hospice. "Hospice is a really good program. Anybody who needs it should be on it. The nurses and everyone have just been fantastic."

In most cases, Dunlop said, hospice care is covered by Medicare or by private insurance. In other cases, hospice tries to get medical assistance from the county. They also have grants for families in dire need.

The hospice office is located just inside the main entrance of the Koronis Manor. Their phone number is 320-243-7768.

Besides Dunlop, Sandy Hanson is the satellite coordinator at the office. They have just started a free, six-week course on grief counseling led by David Rivers. They also have a free grief camp for kids this summer in Willmar.

In need
With Judy having quit her job to care for Tony, the family has very little income. They had no life insurance for Leo and no health insurance, Judy said.

Donations to help the family can be made to: Tony Hawkinson Fund, State Bank of Eden Valley, P. O. Box 300, 359 State Street, Eden Valley 55329.

The Eden Valley, Watkins, Kimball Girl Scouts are sponsoring a spaghetti supper on Saturday, May 6, at the American Legion in Eden Valley as a fund raiser for Tony. Tickets are $5 for adults; $3 for children 5-12, and free for children 5 and under. Serving will be from 5 to 8 p.m.

Tony's story is also listed on the Internet at intimeofneed.org.
---