Father Leisen takes diocesan trip to Kenya
This article submitted by Linda Stelling on 4/19/00.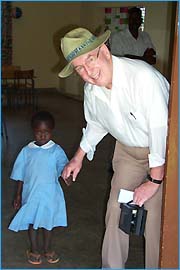 The days were long, hot and dusty, but Father Richard Leisen said the trip to Homa Bay was well worthwhile as he was able to see how local funds have been utilized.

Father Leisen, a priest at St. Louis Catholic Church, Paynesville, is also the diocesan director of Catholic Relief Services. He was part of a 14-member St. Cloud diocesan delegation to go on a two-week visit to the Homa Bay Diocese March 19 to April 1 in Kenya, Africa.

The visit was the first in what is planned to be an ongoing exchange of visits between the dioceses of St. Cloud and Homa Bay as part of the Harvest for Hope program supported by Catholic Relief Services.

According to Father Leisen, St. Cloud Diocese is the second diocese in the state to develop a partnership with another diocese in a different part of the world. "We are equal partners, learning as much from them as they are from us," he said.

The delegation spent several days visiting project ties in the Homa Bay Diocese, meeting the people and learning firsthand how they are addressing various agricultural, health, and environmental challenges.

The delegation was divided into three groups. Each day they visited three different projects. The projects involved farming practices, micro finance, and health care.

Finances and farming
"The people are very much involved in their own destiny," Father Leisen said. The micro finance project is an effort to help the people save money. According to Father Leisen, the people each have their savings accounts. They are living marginally, but they are saving money to send their children to school, buy books or school uniforms for their children, or to buy a new animal for their farm.

For the most part, the area consists of subsistence farmers. The people live in small mud houses with dirt floors and thatched roofs. The homes measure no more than 12 by 15 feet, according to Father Leisen. The families average six to eight children. They farm three to five acres and survive on the vegetables that they grow.

Father Leisen said they plant their crops by using a hand held hoe. "Much of the back bending task work is done by the women and children. Some farmers have oxen to plow the fields. Bishop Kinney, a member of the St. Cloud delegation, tried his hand at plowing with a one-bottom plow," Father Leisen said.

Health care
Father Leisen spent one day at a parish which he thought was well set up. It was built by an Italian religious order. The parish consisted of a nursery school, clinic, and maternity hospital. "Every-thing appeared very clean. The hospital had about a dozen beds. Native priests manned the clinic. Nuns served as the nurses," he said. "One room housed women who had already had their babies, while another room housed women awaiting to give birth."

Preschool children are placed in the nursery school while their parents worked in the fields, Father Leisen explained.

"When you look at the hillside, you see the mud houses. The main roads are paved, but filled with potholes. Their dirt roads are but paths. Our dirt roads are highways in comparison," added Father Leisen.

Father Leisen said they have a saying in Homa Bay. If you are driving straight on the roads you are either drunk or have never driven in Kenya before. "People are constantly dodging the potholes in the roadway. It is impossible to drive straight," he added.

The majority of the common people in Homa Bay walk or bicycle to where they need to go. There are small buses (mini vans) but they are packed, people hanging out all over, said Father Leisen.

"People living outside the urban areas in the country-side do not have any electricity or telephone service. If you went out after dark, you walked in the dark," he added. "We were told never to go out at night. It wasn't safe to walk at night with the potholes in the roads."

Confirmation ceremony
While in Kenya they attended a confirmation celebration at one of the diocese outstations. "As we approached we saw the lone church on the hill," Father Leisen said.

Mass was held outside as more than 1,000 people attended the ceremony, many having walked nine to 10 miles. About 50 people were confirmed that day at the outstation. According to Father Leisen, when the church in town has a confirmation ceremony, the normal number of confirmands is about 400.

He added the confirmation celebration service lasted five hours. Father Leisen helped serve communion to those attending. He stood outside in 90-degree heat. "Someone came and held an umbrella over my head for a while," he said. Others in the crowd held a scarf over their heads to protect them from the sun.

The ceremony consisted of a procession of confirmands, guest speakers, dancing, and offerings to the church which consisted of live chickens and goats. Father Leisen explained they tied the legs of the live animals together so they didn't run all over. The chickens were placed under the altar.

Village project
"It is very uplifting to catch the spirit of the people. They struggle in life to survive, but are joyous at what they have," said Father Leisen.

At one site they visited, a woman had to walk two and a half hours daily to get a large jug of water for the family. They did not have running water. Father Leisen said they are working on a water project in Kenya. The community was proud to have a large cistern about 20 feet in diameter. The water was piped to the town from a river which was located uphill from town. This cistern was the only water supply for the whole neighborhood. There was no water supply in individual homes.

"The water supply was a whole village project. It lifts your spirit to see the readiness people had to work together for a common good," said Father Leisen.

Money spent wisely
As director of Catholic Relief Services, Father Leisen finds it helpful to see first- hand where the diocese money is being used. "Our donations are being put to good use. People are doing things for themselves. The people had to pay to get the water piped to their town and they are the ones required to maintain the pipeline. It is a delight to see successful projects," Father Leisen said.

Now that the diocesan delegation is back, they will plan presentations about their visit and to share with others throughout the 16-county Diocese of St. Cloud.

Local residents joining Father Leisen on the trip were: Mary Jo and George Ruhland, Eden Valley; and Rosie Spanier, Spring Hill, the Harvest of Hope coordinator for the St. Cloud Diocese.
---