Pottery, porcelain repair challenges artist
This article submitted by Linda Stelling on 4/18/01.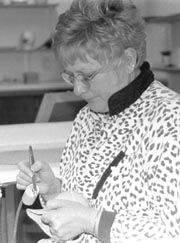 Her work is tedious, intricate, and takes a lot of patience, but JoAn (Schoneman) Hanson is a perfectionist who likes a challenge.

Hanson, who lives four miles south of Lake Koronis, repairs and restores porcelain, china, and pottery in her shop on her parent's farm.

As a high school art student in Paynesville, Hanson never considered herself a very good artist. Now she uses her artistry to mimic and match all kinds of styles or work.

While living in northern Minnesota, Hanson had a neighbor who repaired and restored pottery and porcelain. When she asked Hanson to help her in the business five years ago, her learning process started. "It is something you learn by hands-on experience," she said. The job allowed her flexibility in hours and was close to home.

"I enjoy working with a variety of items. The restoration work provides me the opportunity to be an artist in a multitude of ways all in one day," Hanson said.

"Every day is a new adventure," Hanson said. "I'm always learning." She repairs and restores anything from little figurines, repaints clock faces, repairs crocks, pottery, and porcelain items of all sizes and virtually anything that comes into her shop.

"I view each piece as a treasure, whether it is a family heirloom or a garage sale item," Hanson said.

Sitting on a shelf in her workshop are what Hanson refers to as her volunteers. They are broken and chipped porcelain vases or china bowls that she has bought at garage sales. In her free time, she will repair each one, experimenting with new techniques and learning what works and what doesn't as she goes. "They are invaluable as learning tools," she said.

"I can simulate the aging in a piece of porcelain, but I can't recreate the exact look," she explained. Repairing porcelain is not a quick glue job. It takes time to have an item look as new as when it left the shop, she added.

Hanson first researches what the piece looked like before it was broken. She has her own library of books. She visits antique shops and checks with private collectors and antique dealers to see if they have a matching piece. These will help her determine the best shape and what colors to use in repairing her item.

"It is amazing how much knowledge and information is out there," Hanson said.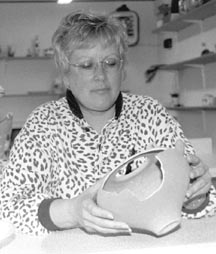 "I want the details to be accurate when I recreate something," Hanson said. "I struggle with how to make something as perfect as it should be."
Hanson likes tough jobs. They challenge her and give her more inspiration to do the project. "It gives me personal satisfaction to be able to give my clients something back that they cherish," she added.
Hanson is up front with her customers, explaining that it could take up to six weeks before an item is repaired.
It takes many steps to repair a small figurine. There are multiple firings required, cracks need to be filled, the pieces need to be sanded, and each layer painted. "It is a tedious process to recreate all the different steps it took to make the original piece," Hanson said. Other steps include airbrushing and hand painting. She also has a dremel tool with 40 different heads that allows her to do a variety of tasks.
Two pieces may look alike, but they aren't identical, Hanson said. How they are fired in the kiln or painted makes them slightly different. To the naked eye, the paint looks like one color, but in fact may be several colored layers.
"I like to mix my own paint colors, to get things just right," she said. "The end result is appealing. I can't always explain the steps, but the finished product matches the original," Hanson said.
She enjoys the artistry of her business. "I don't necessarily consider my job work, but play," she said. "I enjoy what I'm doing. There is an air of expectation and excitement when a piece comes together."
"Whether it's an heirloom or garage sale item, it's still valuable to the owner," she said.
---