Local Lion to be honored for half century of service to club
This article submitted by Michael Jacobson on 4/18/01.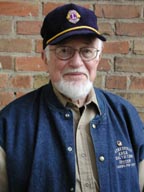 Ray Lindeman is practically a Lion for life. The semi-retired family physician has been involved in the civic organization for a half century, plans on keeping active as long as he is able, and will be buried under a Lions emblem.

Lindeman joined the Lions Club in 1950, shortly after moving to town to practice medicine. "From early on, I wanted to be involved in community activities," he said. "I've always felt it's a good thing to give back to a community. When they give you a lot, you need to give something back."

Lindeman is now not only the longest serving Lion in Paynesville, but has maintained perfect attendance for 51 years, despite the hectic demands of his profession.

For Lions' purposes, perfect attendance does not require attendance at every single meeting. Members can make up for a missed club meeting by attending an executive board meeting or a meeting of another club.

For his accomplishment and dedication for over 50 years, the local Lions Club is celebrating his longevity with an open house at the American Legion on Saturday, April 21, from 3 to 5 p.m. A short program will be held at 3 p.m., and coffee and cake will be served.

Lindeman joined the local Lions Club when it was in its infancy. His 50 years of service leads the club. He is also one of eight members to have over 20 years of perfect attendance. Just behind Lindeman in service and perfect attendance is Maurice Dosdall with 46 years.

While Lindeman has missed local meetings, and made up for them with board meetings and district-level meetings, he is proud, and a little amazed, that he never missed a local meeting for a baby delivery at the hospital. "I was late sometimes, and I had to leave early sometimes, but I never missed one for a delivery," he said.

In his first 20 years as a Lion, Lindeman was active in the local chapter, holding various board positions, including president, for 15 of those years. In the late 1960s, he took his first leadership position at the district level. "I went to a district convention and found there's a lot more to Lions than what happens at the local level," he said.

The goal of Lions International is to help those who can't help themselves, said Lindeman. While some of that is done in the local community, more is done in places with greater needs.

After retiring from clinical practice in 1994 after 45 years, Lindeman spent two years as the district vice governor and two years as the district governor. In that position, Lindeman supervised 24,000 Lions members.

During that time, because of his district responsibilities, he missed some local meetings, but easily maintained his perfect attendance by visiting 66 other clubs.

Lindeman keeps active in Lions on a district level by serving as the diabetes chair for the multiple, which includes 13 districts in Minnesota, Manitoba, and western Ontario and has 1.4 million Lions.

Lindeman started on the diabetes committee on the district level in 1985, about the time he was diagnosed with diabetes himself. His personal experience with the disease and his professional experience in treating it arms him well for raising awareness about diabetes.

Of the 15 million Americans with the disease, he points out, half don't know it. This is crucial because while the disease at present is incurable, it can be treated effectively. Half of blindness and half of renal failure are a result of diabetes, and diabetics have an 11 times greater chance of amputation. "All of these things are preventable," said Lindeman.

For 50 years, Lindeman has done all sorts of jobs to aid the Lions: scrubbed pots at spaghetti dinners, fried hamburgers at the Town and Country Days stand, sold wreaths at Christmas and ads for basketball programs, and whatever else was needed. Still, he says, "It's given me far more than I've given it."

Open House
The Lions Club is holding an open house for Dr. Ray Lindeman on Saturday from 3 to 5 p.m. at the American Legion. He is being honored for 50 years in the group and maintaining perfect attendance.

Longest serving Lions
Ray Lindeman - 50 years
Maurice Dosdall - 46 years
Russ Benson - 38 years
Don Torbenson - 36 years
Ron Frauenshuh - 34 years
LeRoy Hillbrand - 34 years
Joe Sawrey - 32 years
Harry Schuelke - 32 years
Peter Jacobson - 26 years
John Nett - 26 years
Arne Eastman - 22 years
Jim Guenther - 22 years
Steve Whitcomb - 21 years

Perfect attendance
Ray Lindeman - 50 years
Maurice Dosdall - 46 years
Joe Sawrey - 32 years
Harry Schuelke - 32 years
John Nett - 26 years
Ron Frauenshuh - 25 years
Russ Benson - 22 years
Arne Eastman - 21 years
Figures from the local Lions Club.
---