Good Sam gets safety award
This article submitted by Linda Stelling on 4/18/01.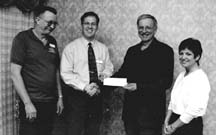 The employees of the Paynesville Good Samaritan Care Center were treated to a steak and chicken dinner last week after reaching a goal of two years with no loss of work time due to injury. Accepting the award from Lou Thomisch, risk management consultant (second from right) are Dick Wojtanowitz (safety coordinator), Tom Kooiman (administrator), and Bonnie Hansen (safety coordinator). The next goal is to reach the all-time achievement of three years and 23 days.
---