River and area lakes remain flooded
This article submitted by Michael Jacobson on 4/18/01.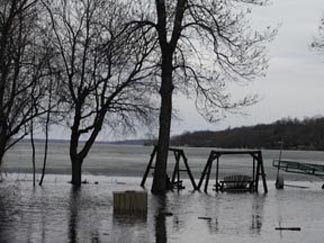 While flooding remains along the North Fork of the Crow River, Rice Lake and Lake Koronis, the peak may have passed.

Rice Lake dropped four inches on Saturday night, according to one homeowner, and Koronis should start to drop a couple days after that.

"The critical time has passed," said Marv Klug, emergency services director for Stearns County. His office has monitored both the Mississippi River and the Sauk River and said they were both down as of Friday.

Klug warned people - both children and adults - to be careful on the shores of lakes and rivers. "We want to keep people away from shores of rivers because they are moving fast," he explained.

The extra water also presents a danger in that it may cover a hazard along the shore that can normally be seen, said Klug.

Last week, low areas on the shores of Koronis were flooded (as shown above), and some homeowners erected sandbag walls to protect their buildings. Over the weekend, strong winds out of the northwest had pushed even more water to the southeastern shores of Koronis.

The county delivers sand and bags at cost, but homeowners need to do the work themselves. Extra sand and bags were delivered over the weekend to Paynesville Township's maintenance building on Koronis Drive, and residents can call the township office 320-243-7500 or a township officer for access.

The county's flood information hotline can be called toll free at 1-877-535-6625. During the day, this number is answered by emergency services staff and at night by the 911 dispatcher.

Sand from bags cannot legally be dumped in the lake, and must be removed once the lake level recedes.

Stearns County Environmental Services Director Don Adams warned residents to take precautions with wells and septic systems. Wells that were submerged could be contaminated and citizens should no longer drink the water.

Adams said it could take two to three weeks before the water is suitable for drinking again.

Anyone who is concerned about their drinking water can contact environmental services (1-800-450-0852) for a $20 water testing kit. The kit will test for coliform and bacteria.

If a septic system has been flooded, residents need to stop using it, said Adams. Because the ground is so saturated, the sewage will have nowhere to go. It could back up in the basement or get into the floodwater and seep into the well.
---