Paynesville native Jeremy Bentler-Kohnen will probably miss the birth of his first child next month. As a member of the Marine Corps, Jeremy is fighting on the front lines in Iraq as a combat engineer.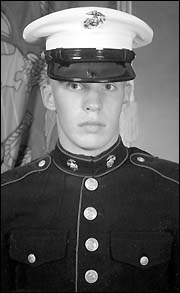 Jeremy's unit, according to his mother Dotzie Kohnen, left in February for Kuwait and was one of the first to the front lines. It is one of the units that carries portable bridges that have made it possible for troops to cross rivers while they made their way north into Iraq.
His wife Tonya, mother Dotzie, and father James Kohnen consider themselves lucky. Even though phone calls are rare and mail is slow, they have been able to keep track of Jeremy's unit on television because CNN reporter Martin Savage is embedded with it.
"I watch CNN all the time hoping to see him," said Tonya. In fact, the family got a satellite dish only after finding out that his unit would be covered. Tonya and Dotzie have watched Jeremy's unit shooting guns and throwing grenades at Iraqi artillery, but so far, they haven't been able to pick Jeremy out of the crowd.
While Jeremy is gone, Tonya is living with his mother while she waits for their baby boy to arrive. His unit commander's wife has been good at keeping in touch with the family and checking on Tonya.
Two men from Jeremy's unit have been killed so far, and both times Tonya and Dotzie received middle-of-the-night phone calls to let them know before they saw media coverage and thought it was Jeremy. "I jump every time the phone rings," said Tonya, even though she believes if something happened to Jeremy she would likely be notified in person.
The phone calls aren't all bad, though. Just Sunday night, Tonya received a phone call telling her that her husband had taken part in the demolition of the statue of Saddam Hussein in Baghdad last week, an event Jeremy can later be proud to tell his son he took part in, she thinks. She's waiting now for videotape of the event and hopes she may get a glimpse of Jeremy.
Jeremy grew up in Paynesville and Roscoe, attending school in Paynesville, and graduating from St. Cloud Technical High School in 2002.
According to Dotzie, he always wanted to be a marine and joined right after graduation. He's proud to serve his country, but he's not dealing well with missing his son's birth, she said.
Because of hospital rules, Tonya won't be allowed to videotape the birth, but Dotzie, as well as Jeremy's father and Tonya's mother will be there to help the young woman and make sure Jeremy gets lots of photos of the occasion.
Jeremy told his family the earliest he could be back in the states is December, but he could be deployed in Iraq for as long as another year. When he returns, he hopes to move his new family to Camp Pendleton in California where he is stationed.
---
Contact the author at editor@paynesvillepress.com • Return to News Menu
Home | Marketplace | Community
---