Springs marks the start of tornado season
This article submitted by Linda Stelling on 4/14/99.
It was a calm day in March (1998) when the weather changed and the winds started to blow. With very little warning, tornadoes swept through southern Minnesota, leaving devastation in their wake.

The residents of Comfrey and St. Peter marked the first anniversary in March of the tornadoes that ravaged their communities last year.

Governor Jesse Ventura has proclaimed April 19 to 23 as 1999 Severe Storms Awareness Week. His goal is to educate citizens, schools, hospitals, nursing homes, businesses, and facilities on the need to plan for tornadoes and severe weather and to stress the need for exercising those plans.

Fifty-seven tornadoes were reported in Minnesota last year starting with the first one on March 29 and the last one being reported on Aug. 22.

The tornadoes left a path of destruction anywhere from one-half mile to 67 miles long and up to a mile wide.

As a result of the storms last summer, only three people were killed and 52 people injured statewide.

The tornado that touched down at Pioneer Park in Albany on May 15 last year killed one person, injured 33 people and left a path of rubble nine miles long. According to state records, that was the only tornado to touch down in Stearns County last year.

Kandiyohi and Meeker counties also reported having only one tornado each. The one that touched down in Meeker County happened on June 30 four miles west of Kingston. The Kandiyohi County tornado touched down on June 14 near Blomkest.

During Severe Storms Awareness Week, the National Weather Service will discuss various topics on different days of the week. Starting off the week on Monday, April 19, the topic will be severe weather warnings.

Tuesday, April 20, will highlight thunderstorms, hail, heat waves, and straight-line winds.

Wednesday, April 21, will focus on lightning, the number one killer and injury producer over all other summer weather threats, according to the statewide emergency services department.

On Thursday, April 22, a statewide tornado drill will focus on tornadoes and proper sheltering at work, home, and school.

The National Weather Service will simulate a "tornado watch" beginning at 9 a.m. Two tornado drills are planned. The first is at 1:45 p.m. and is statewide, with all jurisdictions activating their warning systems.

Bill Drager, Paynesville Civil Defense director, will sound the sirens according to the drill guidelines in Paynesville.

This first drill allows schools, businesses, and hospitals to practice their sheltering plans. The second drill is at 6:55 p.m. and is voluntary. The evening drill is designed to allow families an opportunity to practice their home sheltering plan as well as businesses with second shifts.

On Friday, April 23, the focus is on flash floods which cause extensive crop and property damage each year in the state. An average of five flash flood events occur in Minnesota with June being the month of highest activity.

Tornado warning
A tornado warning in Paynesville means a funnel has been sighted or is on the ground...take cover, states Drager. The AMPI whistle and the civil defense siren will blow a continuous blast for five minutes after a funnel has been sighted. Upon hearing the siren, area residents should take immediate shelter.

"People are urged to take cover in their basement when they hear the warning," Drager said. "If they don't have a basement, take cover in the center of your house. Be sure every family member knows that they should move to safe areas at the first signs of danger."

Drager added, "Take a flashlight and a battery powered AM or FM radio to the basement to listen for more information. If you are outdoors, lie on the ground in a ditch or hollow if possible."

Have a disaster supply kit (food, water, and blankets) and essential personal items ready to take with you to your place of shelter. Items may include eye glasses, prescription medications, driver's license, and credit cards.

The National Weather Service advises that when severe weather hits and you are in your vehicle, do not try to outrun a tornado. Get out of your car and seek safe shelter or lay flat in a ditch and cover your head.

If you are in a mobile home, get out immediately and seek protection in a designated shelter. If none is available, as a last resort, lie down and protect your head.

•In apartments, schools, or hospitals—remain calm and move occupants to the lowest level and into interior corridors away from windows and glass doors. If there is no basement, move to the lowest level. Move to an interior location and get beneath heavy furniture to protect from falling debris.

•The safest place to be is underground and preferably under something sturdy like a work bench, table, or stairs. Do not worry about what corner is best, emergency service agencies state.

•Wait in place until the storm has passed. Be aware of potential dangers such as downed power lines, weak structures, and debris.

A tornado watch means conditions are right for a severe thunderstorm or tornado. People should be alert; however, even though no danger is present at the time. A watch means people should be prepared to take action should the weather change. They should also review how you will communicate or reconnect after the storm.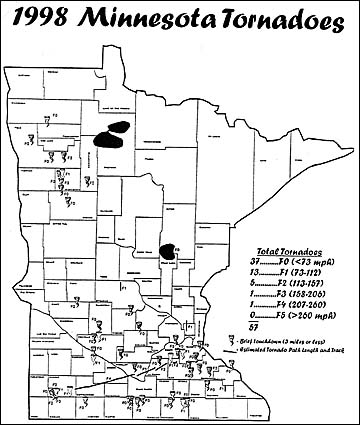 If anyone sees a tornado, they should call the Paynesville Police Department 243-3434 and report the location of the tornado to the person who answers.
Types of tornadoes
Tornadoes are placed in categories by their wind speeds. Below is how they are classified by the National Weather Service:
FO—73 miles per hour F1—73 to 112 mph F2—113 to 157 mph F3—158 to 206 mph F4—207 to 260 mph F5—260 mph or stronger
Thirty-seven tornadoes last year had a FO rating and 13 were F1s. The tornado that struck from Comfrey to Le Center and surrounding areas received an F4 and F3 rating.
There were 14 tornadoes that struck Minnesota on March 29.
---