High school band to perform with two well known bands
This article submitted by Linda Stelling on 4/14/99.
The Paynesville music students will have the opportunity to play with two well-known bands this week: the Dallas Brass and Medalist Concert Band.

Dallas Brass
The high school band is teamed up with bands from around the area to bring the Dallas Brass, a world famous brass quintet to the area. The Dallas Brass performs classical, Dixieland, swing, broadway, Hollywood, and patriotic music. On Saturday, April 17, the Paynesville Area High School Band will attend a 3 p.m. clinic given by the Dallas Brass.

More than 200 local music students will perform in the grand finale with the Dallas Brass at 7 p.m. at the Apollo High School Auditorium in St. Cloud. "Several of the Paynesville music students will be going on stage to join the Dallas Brass for a number of two.

Tickets for the 7 p.m. concert at Apollo High School are $12 for adults and $8 for students. For more information about the clinic and concert call Bryan Mara, 320-243-3761.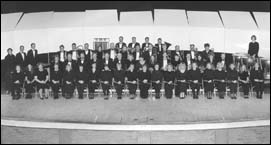 Medalist Concert Band
The Medalist Concert Band, Bloomington, will be joining the Paynesville Area High School Band for their April 19 spring concert at 8 p.m. in the high school auditorium.
The Medalist Concert Band, a volunteer 70 member concert band, is in its 30th season. "Last year Paynesville's bands were judged by a legendary retired band director named Earl Benson," Bryan Mara, high school band director, said. "After the contest he was so impressed that he requested a concert combining our bands and his professional community band from Bloomington. After hearing about the quality of music that this group produced we gladly accepted," Mara added.
The Medalist Concert Band, under the direction of Earl Benson, has performed at the high schools in the midwest, summer park concerts, music conventions, and church sponsored benefits.
Benson is a retired band and music department chairman at Thomas Jefferson High School in Bloomington and had directed the band since it was established.
The bands appearances are made possible through funding provided by the Medalist Fine Arts Association. Support is also provided by the city of Bloomington and the Bloomington Fine Arts Council..
Admission for the Medalist Band Concert will be covered by a free will offering taken at intermission.
---