Ambulance service has new members
This article submitted by Linda Stelling on 4/14/99.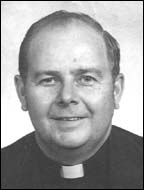 On Sunday, April 18, Reverend Francis J. Garvey will celebrate his 40th anniversary of ordination at the Church of Our Lady, Manannah. An anniversary mass celebration will be held at 10:30 a.m. There will be an open house from 2 to 4 p.m. at the Church of Our Lady parish hall with a program to honor Father Garvey at 2:30 p.m.

Fr. Francis Garvey was born on March 2, 1933, in Manannah/Eden Valley, Minn., the youngest of seven children born to Dennis and Susan (Schmit) Garvey. He received the sacraments of baptism, first eucharist, confirmation, and said his first mass at the Church of Our Lady where he is now serving as parochial administrator. His elementary education was in a one-room country school located near their family farm, and his secondary at the Eden Valley Public High School. After high school, he attended Nazareth Hall Preparatory Seminary and the St. Paul Seminary. He was ordained on Feb. 22, 1959, at Holy Trinity Cathedral in New Ulm, by Bishop Alphonse Schladweiler.

After ordination, he served as the first assistant assigned to St. Anastasia, Hutchinson, under the pastorate of Msgr. John Ward. Also, with this assignment from May 1959 to December 1960, he also served as an assistant at St. Adalbert, Silver Lake, and St. Columban, Greenleaf. He was an assistant at Holy Trinity Cathedral from 1960 to 1962. From July of 1962 to the present, he has been a Catholic Chaplain at the Willmar Regional Treatment Center (Willmar State Hospital) and was pastor of St. Patrick's Parish, Kandiyohi, from 1962 to 1996. From 1973 to 1996, he served as pastor of St. Thomas More, Lake Lillian, in four different assignments.

In 1964, he founded the St. Francis Half-Way House in Atwater for chemically dependent and emotionally ill people. In 1967, he became the second Catholic priest in the United States to achieve the status of a supervisor of Clinical Pastoral Education under the certification of the National Association of Catholic Chaplains and the Association of Clinical Pastoral Education.

Area residents are invited to join him on April 18, to celebrate 40 years of priestly work in the New Ulm Diocese.
---