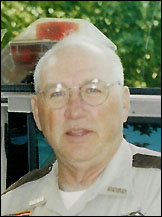 Without football, Joe Pung probably would not have gone to college, would not have met his wife, and would not have taught for 30 years.

Football took him from St. Martin to the University of Minnesota, where he lettered for three years and was named team captain and MVP his senior season. Football, under the legendary Gopher coach Murry Warmath, taught him the style that he would use in the classroom and as a summer water patrol deputy for Chisago County.

Pung grew up in St. Martin, where his family owned Pung's Bar. Started by his grandfather in the 1920s or so, said Pung, the bar passed to his uncle and then to his father, who died when Joe was 11. His mother operated the bar until Joe graduated from high school.

When University of Minnesota coaches offered the 206-pound fullback and linebacker a scholarship, Pung jumped at the chance. "Our family couldn't afford any college," he explained, "so I thought that was a good deal."

By that time, Pung had starred for PHS in football (earning All Conference honors three straight years and rushing for 933 yards on 131 carries (7.0 average) as a senior), in basketball, and in track.

He arrived at the University of Minnesota in the fall of 1961, with the Gophers having just won a national title and on the verge of winning another one in 1961. In those days, freshman could only practice, not play, in college games.

And, in those days, college football still required mostly two-way players. Warmath liked his middle linebackers to double as offensive centers, so Pung was moved to center. In those days, with Warmath, it wasn't a question of if he would change positions, there was no negotiation with the coach, said Pung.

Warmath, explained Pung, was in charge of the team. "There was no doubt about who was running the show. You didn't talk back at all."

Warmath was so controlling that he even had the players diet regimented and made players run extra for eating popcorn between meals. On the other hand, Warmath was extremely organized and far ahead of other coaches in his defensive schemes, added Pung, including stunts and audibles at the line.

Before his sophomore season, due to injuries to two players and the demotion of another, Pung moved from fourth string to first string in one practice, he recalled. The Gophers finished 6-2-1 his sophomore year, 3-6 his junior year, and 5-4 his senior year, when he was team captain and named team MVP.

By that time, more substitutions were allowed and Pung was playing mostly center.

After his senior year, Pung played in the Blue-Grey All Star Game and had a try-out with the Chicago Bears but after meeting with Warmath, Pung decided to go to graduate school at the University. "I was never that stellar of an athlete," said Pung. "I made it with brains and guts and some talent."

Having already earned his bachelor's degree in economics, Pung earned a master's degree in education, while also serving as an assistant coach at the University and working other jobs on the side.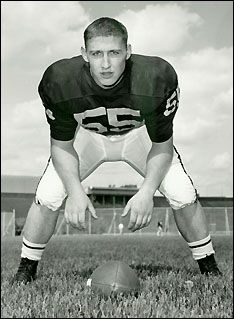 He also taught business classes in the general college at the University for a few years before taking a vocational teaching and internship coordinator position in the Osseo School District in 1969. He taught for more than 30 years in that school district, retiring in 2001.
Joe Pung lettered in football for the Gophers for three seasons (1962-64). A football scholarship allowed him to go to college and led to a 30-year career as a teacher and part-time sheriff's deputy.
That job - a school-within-a-school - was challenging because many of the students came from dysfunctional families and did not like school, said Pung. Like Warmath, Pung tried to be a benevolent dictator while being more flexible than his former coach with his students as long as they met certain expectations.
"They weren't bad kids," said Pung. "They just had terrible upbringings and made some bad decisions."
With his students, Pung didn't always expect them to walk a straight line; he expected some detours. He viewed their educations as a tunnel, and as long as they kept moving toward the light, he accepted their progress, he said. It worked, he reported. "A lot of them blossomed later," he said.
In the summers, Pung worked for Chisago County as a water patrol deputy. Pung, who lives with his wife Vicki on West Rush Lake near Braham, retired from the sheriff's department in 2004 after over 30 years on the job.
Chisago County developed a very effective method for body recover - using a homemade drag and a methodical pattern - which was used in a DNR training tape. This attributed to Pung's being named the Minnesota Department of Natural Resources Water Patrol Deputy of the Year in 2001, he said, while joking that the real reason was he was nearing retirement. (Pung patrolled ten lakes in Chisago County for the sheriff's department and a stretch of the St. Croix River.)
In addition to his teaching and law enforcement, Pung served on the Chisago County Planning Commission for 26 years (from 1972-1998) and served as the admissions coordinator (or the assistant coordinator) for the United States Military Academy for eight years (from 1996-2004). He got interested in this volunteer position after his three sons all went to West Point.
Joe and Vicki's oldest son, Hans, was the cadet captain at West Point and now lives in England and works for the Rand Corporation. Jörn also graduated from West Point and is now an Army captain currently serving in Afghanistan. Willi, their youngest son, who Joe calls the best athlete, only spent a year at West Point before transferring to SDSU and playing football there.
In retirement, Pung likes to fish, do handyman stuff around the house, and lobby a little for water safety at the legislature.
---
Contact the author at editor@paynesvillepress.com • Return to News Menu
Home | Marketplace | Community
---