Nicholas Stalboerger, a 2001 PAHS grad, was part of the recent National Guard deployment of 2,800 Minnesotans who headed overseas.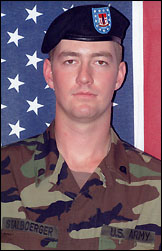 Drew Deadrick, a 1999 PAHS grad who has already spent a year on deployment in Iraq, and Dan Lillquist, a physician assistant for the Paynesville Area Health Care System, were also part of the recent deployment. A contingent of prominent Minnesotans, including Gov. Tim Pawlenty, visited Camp Shelby in Mississippi to see these troops off before their overseas deployment.
Stalboerger, who farmed with his parents Anthony and Patty Stalboerger northwest of Lake Henry, belongs to a National Guard unit in Litchfield but has been assigned to a different unit out of Hutchinson that has been sent overseas. They received active duty orders in October and headed for Camp Shelby, where they trained for four months. They also trained in Louisiana for three weeks in February.
Trained as engineers, they have been joined by two companies of infantry and two of armor, said Stalboerger via e-mail. As engineers, they have been trained in explosives such as C-4, shape charges, and cratering charges, he added, as well as operating heavy equipment such as backhoes, bulldozers, and semi-trucks.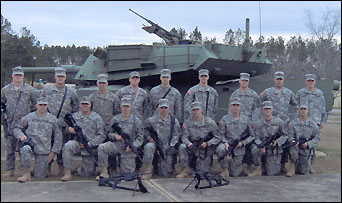 During their training since last fall, they have learned to do urban patrols, clearing buildings, entry-control points, search vehicles, and searching personnel, he said.
"We will probably be stationed somewhere in the southern half of Iraq. I have no idea what we will be doing for sure. Probably a little bit of everything," said Stalboerger, who was unsure of how long the deployment would last.
Nick Stalboerger - front row, third from right - is shown in his desert fatigues with his platoon during training this winter.
Deadrick's mother Sandy said her son expects the deployment to last a year, like his first deployment.
Stalboerger said he is looking forward to seeing a lot of new things, having new experiences, and helping the Iraqi people establish their own government. "I hope by the U.S. being in Iraq we are keeping all the violence over there and keeping the terrorists from attacking us on our soil," he said.