Senior Caitlin Lien set a new school mark on Saturday, qualifying for state speech a third consecutive year by placing second in informative speech at the section meet.

Lien will compete at the Class A state speech tournament on Saturday, April 22, at Bloomington Jefferson High School.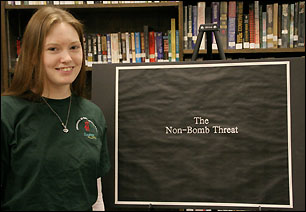 According to Press records, Lien's two previous trips to state in speech tied her with 2004 PAHS graduate Melissa Andrie for the most in school history. By qualifying again, Lien will hold this record by herself.
Lien, who has placed third at sections the past two years to advance to state, finished as the section runner-up this year in informative speech, an event where students are asked to make professional presentations on a topic that they have researched.
Senior Caitlin Lien set a new school record by qualifying for state speech for the third straight year by placing second at the section meet in informative speech. Her topic this year is bioterrorism. She will be the first PAHS student to compete at state speech three times on Saturday, April 21, at Bloomington Jefferson High School.
Lien, who used "Dreams" as her topic two years ago and "Alexander the Great" last year, researched and wrote her speech about bioterrorism this year. She traces the history of bioterrorism (from medieval armies catapulting bodies infected with the plague in the 14th Century and smallpox-infested blankets being given to American Indians to Iraqi scud missiles and the anthrax scare in 2001). Then she examines how bioterrorism could affect the United States, how it could be prevented, and what preparations are being made in case it happens.
Last year, said Lien, her judges told her that the best topics are scientific, current, and relative to the audience, with Alexander the Great not scoring very highly in the last two regards. Her father Ray suggested bioterrorism as a topic, she said, and her mother Lonnie helped proofread her script before she memorized her presentation, which can be up to eight minutes in length.
The title of her informative speech is "The Non-Bomb Threat" because while bombs, hijacked airplanes, and suicide bombers come to mind as forms of terrorism, using chemical agents, toxins, or disease as weapons can be just as deadly. She calls bioterrorism the "unseen threat" in her introduction because "not many people know about it," she explained.
Getting back to state was her goal for the season, and she is pleased to have reached it. She is also proud to have qualified for state three consecutive years.
She has competed in informative speech for four years in high school and was drawn to the category because of its professional nature and because it is the only speech event that allows the use of props. For her speech, she uses charts and pictures about bioterrorism.
As a testament to her dedication, she has redone her props five times this speech season.
Lien is a hard worker, very intense about speech, and a perfectionist, said her coach Joan Nevitt. "If I needed a CEO," Nevitt added, she'd chose Lien.
"I take this category very seriously," said Lien.
Lien plans to compete in forensics, which is similar to speech, next year at Concordia College in Moorhead, where she plans to major either in theater or music education. She said she is relaxed now that she has earned a return trip to state and that her only goal at state is to have fun, though making the finals and earning a medal would be nice, she admitted.
Only three speech students from PAHS have placed at state: Andy Schuch, first in prose in 1983; Doug Jensen, fifth in prose in 1983; and Hannah Felling, seventh in discussion in 2002.
The schedule for the state speech meet on Saturday, April 22, is: first round, 8:30 a.m.; second round, 10:15 a.m.; third round, 11:30 a.m.; finals, 2:45 p.m.; and awards, 4:30 p.m.
Three other PAHS speech students made the final round at the section speech meet at Eden Valley-Watkins High School on Saturday. Sophomore Natasha Fangmeier (poetry), senior Emily Rainey (creative expression), and senior Lauren Vaske (great speeches) all placed seventh at sections.
Junior Hailey Bundy (discussion) and senior Ashley Frank (original oratory) both placed ninth at sections and just missed qualifying for the final round.
Ninth grader Kaitlin Burlingame (humorous), ninth grader Brianna Fischbach (extemporaneous reading), and sophomore Alyssa Tish (extemporaneous reading) also qualified for and competed at the section speech meet on Saturday.
---
Contact the author at editor@paynesvillepress.com • Return to News Menu
Home | Marketplace | Community
---