Not only is band director Ken Vork cutting his hair, he's dying it blue for a week.

He made a deal with his band members that he would cut his hair, above collar length, if they earned a perfect score at the large-group contest last week, and that he would dye it blue for a week if they got the highest scores among the bands from nine schools. They did both. At least they didn't get all perfect scores, so he can avoid getting a buzz cut!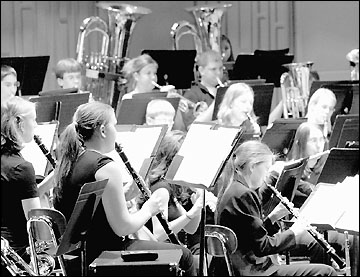 The PAHS Band - comprised by students in grades 9-12 - earned scores of 40, 39, and 38 from the three judges on Thursday, April 6, at the large-group contest held at New London-Spicer High School.
The PAHS Band - shown at their concert in March - earned the highest scores of any band at the section large-group music competition last wee, including a perfect score fo 40 from one of their judges. They also earned the top rating of section superior, a rating also earned by the PAHS Mixed Choir at the competition on Thursday.
"(The band members) seem to really understand the significance of contest and rose to a new level," said Vork. "The last couple of days they really sharpened up. I really felt that going in that we were the best prepared in the last three years."
Nine schools compete in Paynesville's section for music: ACGC, Annandale, Eden Valley-Watkins, Howard Lake-Waverly-Winsted, Kimball, Litchfield, Maple Lake, New London-Spicer, and Paynesville. While no official results are released, PAHS did score the highest of any band at the competition, said Vork, which is the first time that they have ever scored higher than Litchfield, he added.
The PAHS Band played two songs, both contemporary pieces, for the contest: "Ammerland" and "Pilatus."
Their feedback from the judges were "undoubtedly the best comment sheets I've ever got," said Vork. All the judges picked the same critiques, he noted, which leads him to believe that there were less faults to find, or their critique choices would have been more random.
"The thing that was most common was how musically it sounded and the work we had done to make a mature sound," said Vork.
"Thanks for playing very musically tonight," gushed the judge that gave them a perfect score of 40. "You are a real treat to hear! I hope you enjoyed playing this program as much as I enjoyed hearing it! You are playing with a high level of musical understanding."
Vork plans to have his hair cut someday during band practice.
Also earning Section Superior honors, which go to ensembles scoring 35 or better, was the PAHS Mixed Choir, which performed three songs at the large-group contest last week: "Praise the Lord," a classical song by Handel; "If Music Be the Food of Love," a contemporary song; and "Go Where I Send Thee," a spiritual.
The PAHS Mixed Choir - 9-12 boys and 11-12 girls - earned two 38s and a 35 from the choir judges to earn the highest contest rating again.
Contest is a challenging experience for the students, said choir director Cheryl Bungum, with the students having to sing and listen to each other in a space where they have never practiced. (The choirs warmed up in one room and then sang in another at NL-S High School.) "(The students) did a nice job," said Bungum. "It's always a challenge to sing in a place where they haven't before. You hear the first sound and have to adjust."
They also get to work with one of the judges and improve through their feedback. The students were like "sponges" in working with the judges, said Bungum.
"Very musical!" praised one choir judge about the PAHS Mixed Choir. "Excellent dynamic range and sensitivity to text. Well done!"
The PAHS Treble Choir - 9-10 girls - also sang at contest and received the second highest rating of section excellent for their scores, three 32s. They sang "For the Beauty of the Earth," "Dirait-on," and "Fire."
This choir sang very challenging music, including one song in three parts that also broke into four parts, quite a challenge for a 14-member group, said Bungum.
"Wonderful music," said one judge, "and your concert poise is excellent! Keep working and listening to create a unified sound!"
Bungum also thanked Kari Schumacher for accompanying the choirs at contest.
The high school choirs will give a concert on Monday, May 8, while the PAHS Band will give its last concert of the year on Wednesday, May 17.
---
Contact the author at editor@paynesvillepress.com • Return to News Menu
Home | Marketplace | Community
---