Eighth graders spend three days in Washington, D.C.
This article submitted by Erin Aagesen on 4/12/00.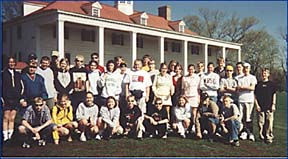 Thirty-five eighth grade students boarded an airplane on Thursday, March 30 to Washington, D.C. The students, who shared the airplane with Gov. Jesse Ventura, spent three days touring our nationŐs capital city.

Lessons learned in civics class came alive as they saw the sights in what civic teacher Dawn Knoll describes as a three-day "whirlwind." "They gained an appreciation for what goes on in a short time," she said.

Riding on a charter bus with a well-liked bus driver named Henry, they saw all the war memorials, with highlights, according to Knoll, being the Korean and Vietnam War Memorial. They also visited the Tomb of the Unknown Soldier, Arlington National Cemetery, Lincoln Memorial, and the Jefferson Memorial.

Jena Spaulding, who went on the tour, said, "I learned by seeing the VeteranŐs Memorial that a lot of people died for us. I knew there was a lot, but it was amazing to see that wall."

While on the tour, students also had the opportunity to visit the recently completed National Cathedral, the Capitol building, Mount Vernon, the Smithsonian museums, the Holecaust Museum, FordŐs Theatre, a part of the Berlin Wall, and the National Archives. They also got to see the White House from the outside.

For those who went on the trip, more learning was done than just seeing the traditional sights. For many, it was a first experience of riding on an airplane, eating at Hard Rock Cafe, or their first exposure to aspects of city life, such as subway rides, homeless people, and protesters.

"Washington is really a beautiful city," said Chad Stang, "but there are many homeless people which gets you thinking about the really bad cities in the United States."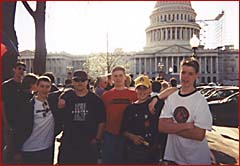 Two boys had their first experience with the police. According to Knoll, the group was waiting outside of the Capitol building for about an hour, and two of the students were having fun chasing squirrels on the grass. They were then asked by two police officers to leave them alone, because both the squirrels and the grass were federal property.
Knoll regards this as a misunder-standing. "The students were really very well-behaved throughout the trip," she said.
According to her, students who went on the trip have already begun making connections between what they saw on the trip and what they are learning in the classroom.
Those who went on the tour included: Derek Burris, Trista Bork, Peter Schreifels, Trevor Stanger, Angie Buermann, Amanda Stelling, Peggy Thompson, Tyler Kochman, Jordan Haag, Chad Stang, Jen Terres, Jessica Paul, Chad Wyffels, Rachel Keller, Trevor Lang, Kim Hiltner, Laura Haagenson, Kayla Rooney, Nick Nelson, Tricia Salzl, Amanda Glenz, Jon Scheierl, Erin Moser, Troy Fuchs, Jena Spaulding, Lee Fuchs, Chris Hoffman, Albert Holker, Jason Kolb, Bobby OŐFallon, Kyle Rausch, Ross Jaeger, Brandon OŐDer, Kyle Savelkoul, and Heidi Olmscheid.
Chaperones were: Knoll, Rick Thompson, Connie Haag, Kathy Rooney, Diane Keller, Joanne Spaulding, and Vickie Nelson.
---