Pastor Ron Nielsen begins interim ministry
This article submitted by Michael Jacobson on 4/12/00.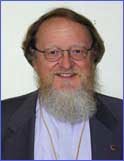 Pastor Ron Nielen started serving Paynesville Lutheran Church last week on an interim assignment. Nielsen has been a minister for 32 years and has spent eight years doing interim work. He just finished an interim stint in New Brighton. He isn't a stranger to the west central area, having served previously in Sauk Centre, Brooten, and Willmar.

Nielsen, who is originally from northern Iowa, attended Waldorf College, got his bachelor of arts from Dana College, and completed sem-inary at Lutheran Seminary in St. Paul. He started in the ministry with a two-point parish in Montana.

He spent over half of his ministry career in church camping, including seven years at Luther Crest near Alexandria. He also directed camping in the Tacoma/Seattle area and did regional administration in the Midwest.

Nielsen first met his predecessor while working at Luther Crest during college. Nielsen worked with John Hoyme, Pastor Rick Hoyme's older brother, and met Pastor Rick, who was still in elementary school then.

Pastor Nielsen also attended seminary with Harold Knutson, a Paynesville native. He came to Paynesville for Ruth Knutson's funeral several years ago and remembers Pastor Rick's sermon. "Many sermons I don't remember," he said with a laugh, "including some of mine."

Interim assignments average between nine and 12 months, according to Nielsen. He expects this one to be shorter, though, because a call committee was already in place following the departure of Pastor David Glesne last summer. With much of the preliminary work done, the committee should be ready to interview shortly. "With a little luck," Nielsen said, "they'll have someone by September."

One challenge, he said, will be the additional change brought on by the church's building project. (See the related story on this page.) Although he will not be involved with it, the change in building and pastor at the same time could intensify the trauma for some parishioners.

Nielsen called Paynesville Lutheran a healthy congregation and said his job was to bridge the gap from Pastor Hoyme to a new full-time pastor. "Even if Pastor Rick is gone, even if the building changes," he explained, "the ministry goes on."

Nielsen, who lives in St. Paul, expects to spend five full days and several evenings a week working at Paynes-ville Lutheran. He likes to work Sunday through Thursday and spend Friday and Saturday with his wife of 39 years, Kathie. There are 16 weddings scheduled at Paynesville Lutheran this summer, though, so when that season hits his schedule will change.

Pastor Nielsen and Kathie, who is a school teacher, have four grown children and five grandchildren. Pastor Nielsen's hobbies include traveling, reading, eating out, and listening to public radio.
---