National Honor Society inducts 17
This article submitted by Michael Jacobson on 4/11/01.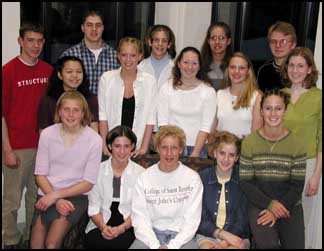 Seventeen juniors and seniors at Paynesville Area High School were inducted into the National Honor Society at a ceremony on Thursday night in the middle school media center.

Paynesville's 20-year-old National Honor Society recognizes scholarship, service, leadership, and character. Potential members must have at least a 3.0 GPA plus must take a certain curriculum of core courses. In addition, their service, character, and leadership - in school and the community - is judged for admission.

Each successful candidate was nominated by five teachers, and then had their application approved by a faculty council of five teachers, who were selected by last year's inductees.

Thirty students were nominated this year, high school principal John Janotta announced at the induction ceremony, but only 17 met all the requirements.

PAHS enforces more demanding criteria for entrance into the National Honor Society than some other schools.

Inducted were seniors: Trista Dukowitz, Ryan Flanders, and Crystal Humbert; and juniors: Melissa Bachman, Laurie Barten, Wendy Bennett, Scott Buermann, Jennifer Habben, Lisa Hemingson, Jennifer Hess, Maria Janotta, Rachel Koehn, Sara Lieser, Amy Mueller, Heather Roos, Jonathan Schefers, and Scott Thompson.

"I think you truly are going to be the leaders of our community, our state, our nation, and even our world down the road," Janotta told the students. "That's the challenge to you: to strive and use that leadership."

The speaker at the induction was high school English teacher Michelle Anderson, who was recently selected as the district's Teacher of the Year.

Anderson taught most of these students when they were ninth graders, and said that she knew then they were bound to do well. "As I look around this room, I see faces that I knew, just knew, would be recognized for great accomplishments - for making choices that would set you apart from the 'norm' here at PAHS," she said.

She urged the students to keep using the skills, to keep doing their best everyday, and accomplishing their goals in school and beyond.

"There is no doubt in my mind that each of you was chosen as a clear representative of the ideals that make Honor Society students such special, admirable individuals. You should be very, very proud of your accomplishments," she concluded. "What wonderful role models you have become and will continue to be for your peers."

PAHS has had a chapter of the National Honor Society since 1981. For the first decade, admission into the society was not granted until graduation. Since 1992, Janotta said, entrance has been done earlier in the spring and open to both juniors and seniors.

Thirteen seniors were inducted last year as juniors: Cyndi Bollman, Sarah Brauchler, Travis Flanders, Joy Hemmesch, Stephanie Hoeft, Scott Ingalsbe, Leanne Kolb, Eric Korman, Ginni Lahr, Martin Lieser, Jennifer Mayer, Corey Schmitt, and Jamie Teicher.
---