Census results shows population growth in townships
This article submitted by Michael Jacobson on 4/11/01.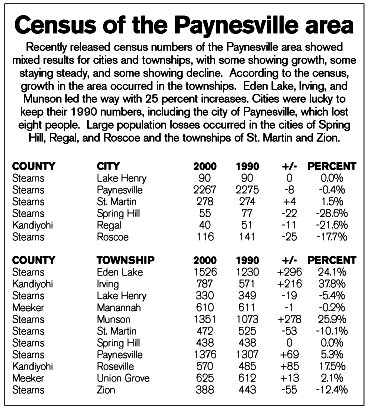 The country and lake population is growing in the Paynesville area, according to the first local census data released from the 2000 census.

Population in the six local municipalities - Lake Henry, Paynesville, Regal, Roscoe, St. Martin, and Spring Hill - was stable at best and declined slightly in the past decade, but the population in area townships was up significantly.

Eden Lake Township led the growth, picking up 296 new residents from 1990 to 2000. This led to a 24 percent gain in its overall population, from 1,230 to 1,526. It actually passed Paynesville Township in size in the past decade.

Other townships with major growth were on the edges of the Paynesville area. Irving Township, which starts a couple miles southwest of Lake Koronis and includes the eastern side of Green Lake, picked up 216 new residents. Its percent growth, 37.8 percent, led townships in the tri-county area. Click here for the area's biggest gainers and losers.

Munson Township, west of Richmond, which includes the western edge of the Chain of Lakes, grew by 278 people. Its percentage gain of 25.9 percent was fifth best among townships in the counties of Kandiyohi, Meeker, and Stearns. Click here for all the area 2000 population changes.

Eden Lake Township was sixth in percentage gain at 24.1 percent. Townships with lakes grew, while predominantly agricultural townships saw declines.

Roseville Township, which includes a shore of Long Lake in the northeast of Kandiyohi Country, including Hawick, had 85 new residents, a gain of 17.5 percent. Paynesville Township, with most of Lake Koronis, grew by 69 residents in the past 10 years, a five percent gain. On the south shore of Koronis, Union Grove had a small gain (+13).

The farming townships of Spring Hill (0),and Manannah (-1) stayed level while Lake Henry (-19), St. Martin (-53), and Zion (-55) townships lost population.

Cities
The cities in the area were lucky to maintain their 1990 population. The only city with an increase in numbers was St. Martin, which picked up only four residents.

Lake Henry stayed right at 90 residents, and Paynesville lost just a tad, going from 2,275 to 2,267.

Dennis Wilde, city administrator in Paynesville, said the number of households in Paynesville is up, but the overall population is down slightly. He thinks the cause of the city's loss is the change in family sizes. The city has more, though smaller, families.

The smaller family sizes would seem to be part of what's ailing the local schools, where enrollments are at all-time lows. Wilde is waiting to see the age breakdown of the city population, which hasn't been released yet.

The populations are used to determine the city's revenue from the Homestead Agriculture Credit (HACA) and local government aid.

Another part of the city's slight population decline could be a shortage of housing opportunities. Virtually every lot in town has been filled in the past few years, but in the last year the city has annexed two new developments - Project 55 and WilGlo Acres╩- which should help the city grow within the next ten years, Wilde said.

Smaller cities lost a larger percentage of their populations: Spring Hill (-22, -28.6 percent), Regal (-11, -21.6 percent), and Roscoe (-25, -17.7 percent).

For the counties, Stearns County increased by a quarter from its 1990 population, adding nearly 29,000 people. Stearns (140,715) is nearly three and a half times as large as Kandiyohi (41,203) and more than six times larger than Meeker (22,644).
---