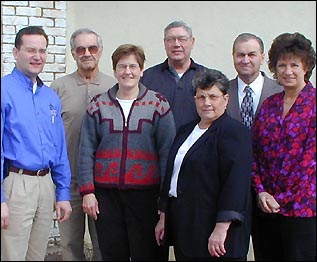 Bolstad Realty of Paynesville has purchased Meierhofer Realty of Richmond and merged with it using the Meierhofer name.

The sale was made in January, and the name change became official in April.

"We were looking to expand because Bolstad was doing very well over the years," said broker Jim Eiynck, from his office in the parent company, First National Bank of Cold Spring. "And you take opportunities as they come along."

With the merger, the new Meierhofer Realty will have branch offices in Richmond and Paynesville. The combined outfit will have nine agents and an office manager.

Agents are: Einyck, Don Grages, Mary Janotta, Sue Johnson, Art Lahr, Carol Lahr, Cindy Rathbone, Ken Schwartzwald, and Bev Stowell. The office manager is Brenda Orth.

Pictured, from left, are Eiynck and agents Schwartzwald, Janotta, Grages, Lahr, Lahr, and Johnson. Not pictured are Rathbone, Stowell, and Orth.

"It's for convenience for customers and clients to have one company," said Eiynck of the merger. "We specialize in central Minnesota. We're not exclusive but we specialize in the lakes, the farms, businesses, and, of course, single-family homes."

Along with the new name, the company will have a new logo with lighter blue and grey replacing the darker blue Meierhofer has used in the past. The logo will be easy to see, but Eiynck said people will have to experience the service for themselves.

"The service is going to be exceptional," he said. "The agents are very dedicated and excited about this change: to be an office of many rather than an office of a few."

Bolstad Realty was founded in Paynesville in the 1970s and was sold to the First National Bank of Cold Spring five years ago.
---
Contact the author at paypress@lkdllink.net • Return to News Menu
Home | Marketplace | Community
---