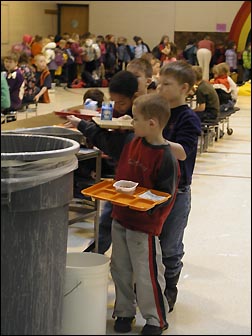 Breakfast, it is said, is the most important meal of the day, which is why Paynesville Area Elementary School - through a state program - is offering free breakfast every morning to all its students.

Research shows that students who eat breakfast are calmer, more ready to learn in the classroom, and are able to absorb more during class, explained elementary principal Todd Burlingame. "Basically, breakfast is brainpower," he said.

The idea in providing free breakfast is to insure that no one comes to school hungry, and thus at a disadvantage to learn. "You can imagine coming to school hungry and having to wait until lunch to eat," said Mary Solum, the head cook at the elementary school.

Students with empty stomachs tend to have less focus, are able to pay less attention, and are more irritable, Burlingame and Solum agree.

"In the past, we usually have one to two kids that complain of being hungry in the morning," said Sue Currens, an Early Childhood Special Education teacher at the elementary school. "I haven't noticed that this year."

The breakfast has requirements. Each day, one ounce of protein, a half cup of fruit, a bread, and milk must be offered. Students are required to take at least three items each day.

The milk, bread, and fruit are easy to offer, said Solum. For the bread, they serve things like toast, muffins, pastries, and pancakes, while offering a choice of five cold cereals each day. The most popular breakfast offering, according to Solum, is cinnamon rolls.

Cereal is a popular alternative. Currens, whose daughter likes to eat at school rather than when she first gets up, appreciates the program. "As a parent, I have really been happy with it," she said. "I especially like the choice of cereal, so there is something that they like."

The most difficult offering is the protein, according to Solum. Due to their budget, they can't afford to serve meat everyday, so they rely on things like cheese, eggs, and yogurt as other sources of protein. Solum would welcome ideas for other protein offerings.

The Fastbreak for Breakfast program reimburses the district $1.27 per student per breakfast. Solum tries to keep the district's cost for each breakfast at $0.90 per student. She does this by matching expensive items, like meat, with less expensive items, like pancakes.

"We're making money on our breakfast program," said Solum. "It's not a lot, but it's a profit." That profit has helped the district pay for repairs to kitchen equipment with money from the food service fund, instead of having to dip into the general fund.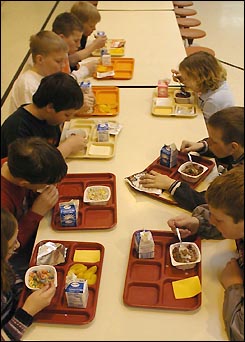 The kitchen staff, despite the additional preparation and distribution, is averaging less hours this year than last year, according to Solum.
And reporting to the state, done by the district office on the meal report, is very easy, said Joan Brogaard of the district office, who files the district's monthly meal reports to the state.
It's actually easier now than recording milk at milk break, which was eliminated due to the free breakfast program. In previous years, the district provided free milk to any student who qualified for free or reduced-price lunches, but teachers had to keep track of who drank milk each day and the district had to bill the lunch accounts of students who didn't qualify for free milk.
This year, the free breakfast program replaced milk break. "If they want their milk," said Solum, "they have to come down and have breakfast."
The elementary school, as well as the middle/high schools, has offered breakfast for several years, but most students used to have to pay for it at the elementary school. Only those whose families qualified for free and reduced-price meals got discounts for breakfast.
On the basis of the elementary school's percentage of free and reduced-price students, though, the district qualified for the Fastbreak for Breakfast program. "It used to be a grant, and you had to apply for it," explained Brogaard. "Now it's a program."
The number of students who qualify for free and reduced-price meals has been pretty constant, according to Brogaard, but with the overall number of students declining at the elementary school, the percentage of free and reduced has increased.
The number of free and reduced-price lunches is also used as the basis for Title I funds and compensatory revenue, so the school district emphasizes having students apply for free or reduced-price meals.
One confusing thing, according to Solum, is that students must reapply every fall because of the new guidelines that are invariably enacted.
The number of students eating breakfast this year has averaged 120 per day through seven months. That is triple the number that ate in previous years, but Solum and Burlingame want to get more students to eat the free breakfast.
After December and January, when they averaged a low of 100 students per day, they instituted a monthly raffle, where students who eat 10 times each month get their names put into a drawing for prizes.
In late March, they held a pancake breakfast for parents that attracted more than 200 parents, giving the school an opportunity to explain the breakfast program. They might hold another breakfast for parents before school gets out, and want to have one again next fall during the first week of school.
Participation has been greater in grades K-3, and Solum is working on ideas to attract more students in grades 4 and 5. "We're trying to figure out ways to get them down there," she said.
Fastbreak for Breakfast
Through a state program - Fastbreak for Breakfast - free breakfast has been offered to all elementary school students this year in Paynesville. Through seven months, the school has averaged feeding 120 students per day, which is a quarter of the total student population.

| | | | |
| --- | --- | --- | --- |
| | Total | School | Daily |
| Month | Students | Days | Average |
| September | 1,653 | 14 | 118.1 |
| October | 3,033 | 21 | 144.4 |
| November | 1,821 | 16 | 113.8 |
| December | 1,409 | 14 | 100.6 |
| January | 2,015 | 20 | 100.8 |
| February | 2,186 | 18 | 121.4 |
| March | 2,297 | 17 | 135.1 |
| TOTAL | 14,414 | 120 | 120.1 |
---
Contact the author at paypress@lkdllink.net • Return to News Menu
Home | Marketplace | Community
---