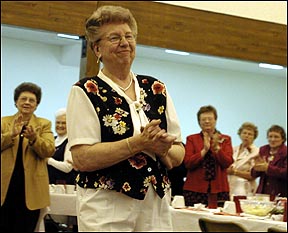 At the state convention of the Daughters of Isabella last weekend at St. Louis Catholic Church, Marcella Lieser of Paynesville received the 2003 Minnesota State Outstanding Daughter award.

The award acknowledged Lieser's dedication and outstanding charity work for her church, her community, and the Daughters of Isabella for the past 39 years. "She's a person who's always willing to help the underdog," said Mary Kunstleben, the state regent for the local Daughters of Isabella chapter.

Marcie Lieser of Paynesville received the 2003 Minnesota Outstanding Daughter of the Year award last weekend at the state convention hosted by St. Louis Catholic Church. Lieser earned the award for her charity work and service to the Daughters of Isabella for the past 39 years.

When her name was announced, Lieser's expression was one of happy bewilderment. "I was working and the first thing I heard was 'she had five children and five grandchildren' and I thought, just like we do," said Lieser. "I had no idea. I was so involved I didn't hear," she added.

Her surprise was compounded when 17 members of her family - all of her daughters, spouses, and grandchildren - filed in through a side door. Marcie accepted the award and a bouquet of flowers from Kunstleben while each of her daughters shared stories about their mother.

Her daughter-in-law shared this anecdote: "If you asked her grandchildren what grandma's all about, they'd probably say strawberry jelly, caramel rolls, root beer floats, and her special fried chicken."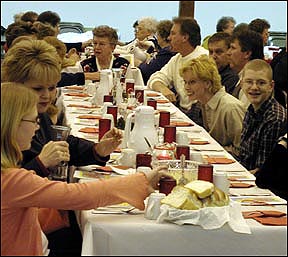 "They talked about my whole life," Lieser said. "I just appreciate all who were involved," she added. She also received a crystal pitcher and glass set in addition to her plaque and flowers.
Kunstleben listed Lieser's many accomplishments and responsibilities in her introduction. Marcie volunteers her time for bake sales, makes baby quilts, organizes fundraisers and special events, and does hair care at a nursing home once a month.
Seventeen members of Marcie Lieser's family surprised her at the banquet when she received her award. Lieser, typically, was working when the award was announced.
She has held several offices within the Daughters of Isabella including state regent, vice regent, and local regent. She currently serves as the membership chairperson and has been the financial secretary for the last 12 years.
In addition to teaching religion for the church, Lieser is a Eucharistic minister and has been active in many other roles.
Just one other state convention was held in Paynesville by the Daughters of Isabella, back in 1989. This year the weekend schedule included mass each evening, a business meeting, and a banquet.
After the banquet was finished, Marcie said, she stayed until nearly midnight cleaning up along with several others. "The kids call me the energizer bunny," she laughed, "so I guess I have to keep up."
---
Contact the author at editor@paynesvillepress.com • Return to News Menu
Home | Marketplace | Community
---