At the age of 18, Chelsea Hartmann has set her sights on Nashville. After years of singing karaoke and being a member of a country band, Hartmann made her local debut last weekend with her own band.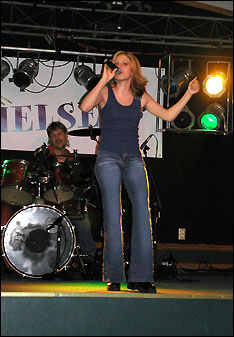 Currently, the Chelsea Hartmann Band is on its inaugural tour of 22 Minnesota venues. The tour is titled the Butterfly Tour 2003 and will wrap up in June. The band plays covers and some original music.
Playing locally is the first part of a larger plan for Hartmann. These gigs are a way for the band to grow and develop and get its name out to the public, said Hartmann. The long-term goals for the group include making it to Nashville, opening for a national act, getting a record contract, and country music stardom.
Chelsea Hartmann, 18, has dreamed of being a Nashville headliner since she was a little girl. She has sung professionally for three years, and now she has star billing with her own band that debuted locally last Friday.
Hartmann, who has been singing professionally since she was 15, started putting her band together about a year ago with the help of her new manager, whom she met when he filled in with her old band. While some of the band members had worked together before, others were brand new so the group had to learn how to work together.
As a band leader, Hartmann has learned the meaning of hard work, she said. Because money is tight she does much of the group's promotional work herself, plans the music, and works out practice schedules. Even though she eventually hopes to make money from her music, for the time being, she doesn't get paid for her services or for the shows she does. Instead, any pay the band gets for performances goes directly to the other members because without them, Hartmann knows she may never reach her goal.
Hartmann feels she is at her best on stage giving an energetic performance. While she doesn't get nervous before a show, she does get excited and a bit giddy.
"One of my most embarrassing moments was at We Fest last year when I moved around so much I lost my shirt - literally - and didn't notice at first," she said. She has also forgotten lyrics a few times, she admitted.
Hartmann began singing when she was a little girl, and by the time she was a teenager, she was following her uncle's karaoke act and singing in local bars.
She entered talent shows and joined her first band three years ago when she was just 15.
"I always supported her, even when other parents would ask me how I could let her sing in bars," said her mother Rhonda Larson. "I always knew exactly where she was and who she was with and she always had supervision," she added.
Larson said her daughter always wanted to be a star. As a little girl, she loved to sing and always wanted to perform in local plays, especially musicals. In the plays, as well as in choir events, she always wanted the solos, and at home, she was always singing. In fact, she still drives her 12-year-old brother Bryce crazy. "He tells me to shut up all the time," laughed Hartmann.
Hartmann gave up living the life of a typical teen to pursue her career in music. She left Paynesville Area High School, stopped cheerleading, and skipped the prom for her music, said her mother.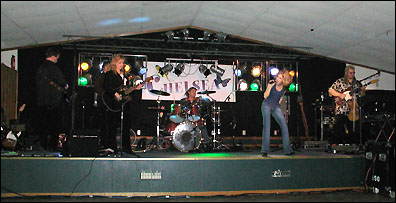 Although an alternative learning program will allow her to graduate with her PAHS class in June, Hartmann actually left school two years ago to pursue her dream.
The Chelsea Hartmann Band is on its inaugural tour - titled the Butterfly Tour 2003 - in Minnesota and will wrap up in June. The band plays covers and some original music.
Instead of going to the homecoming dance or cheering the football team, she was practicing the guitar, learning how to yodel, or performing on stage. She admits that she doesn't have a lot of friends her own age, but she doesn't regret any of her decisions so far. Even if she never becomes famous, she's had some wonderful experiences and met some great people.
Larson believes her daughter will find the stardom she seeks. "She sets a goal and then does it," said Larson of her daughter.
According to Hartmann, if music does not work for her she can always pursue it on a smaller scale, and she does have a back-up plan - to go to college and become a dental assistant - but she doesn't have any time limits. Since she's young, she can keep trying for a very long time, she said.
She nevers wants to regret not trying.
---
Contact the author at editor@paynesvillepress.com • Return to News Menu
Home | Marketplace | Community
---