The Paynesville Chess Club has won two tournaments and taken second in a third so far this season.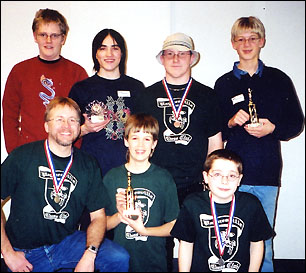 The chess team won meets at Willmar in February and at Belgrade in March and took second at Litchfield also in March.
At Willmar, the team won decisively. Scott Millner placed third and Phillip Yungk placed sixth in the high school division, Peder and Ezra Thompson each placed first in their division. Joshua Andersen placed fifth in his, and Jordan Schultz placed eighth in his.
Paynesville winners at a chess tournament in willmar in February were: (front) coach Jay Thompson, Ezra Thompson, and Josh Andersen; (back) Jordan Schultz, Scott Millner, Phillip Yungk, and Peder Thompson.
At Belgrade, Tanner Wendroth was first among eight- to ten-year-olds; Ezra Thompson was first among 11- to 13-year-olds, and Peder Thompson was first among 14- to 17-year-olds. Taking thirds were Cole Woehler among eight- to ten-year-olds and Scott Millner among 14- to 17-year-olds.
Tucker Wendroth was fourth in the under seven division, Yungk was fifth in the 14- to 17-year-olds. Jordan Lahr was seventh, and Luke Puppe was eighth.
At Litchfield, the team finished second, based on a score of 21 from its top five finishers. In K-3, Josh Bungum was sixth. In 4-6, Ezra Thompson was first, Puppe was fifth, Tanner Wendroth was eighth, and Josh Mergen was ninth.
In 7-12, Peder Thompson was second, and Allie Wendroth was seventh. Seventy-three players competed in the Litchfield tournament.
At Litchfield, coach Jay Thompson took second in the speed chess tournament, and Ezra Thompson was third.
Other chess club members are Kellen Andersen, Tanis and Tarin Beireis, Mason Marshal, and Eric and David Mattson.
Chess Club members played on Thursdays in February and March. In addition to regular chess, they played stealth chess, three-way chess, speed chess, and had a bughouse tournament.
Locally, in a speed chess tournament, Tanner Wendroth won, and Yungk was second. In a four-round Swiss-style tournament, Millner was first, Yungk was second, and Schultz was third.
---
Contact the author at editor@paynesvillepress.com • Return to News Menu
Home | Marketplace | Community
---