Army Reserve Center will have new tenants
This article submitted by Linda Stelling on 4/7/98.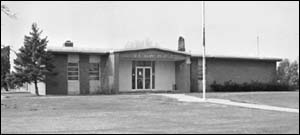 This spring, the Army Reserve Center in Paynesville will get a new tenant. The transportation unit presently stationed in Paynesville will be moving back to Buffalo, when their new building is completed.

Coming to Paynesville in early June will be Detachment II of the 704th Chemical Recon Company. The company is headquartered in Arden Hills with Detachment I in Cambridge.

The recon detachment consists of 32 individuals and 12 hard top hmmwvs (high mobility multipurpose wheeled vehicles). The company is presently stationed in Willmar.

Bob Bowden, Command Sergeant Major with the 88th Regional Support Command, explained recon means the company is forward deployed with the cavalry units to look for chemical contamination.

ďThis unit will be doing their annual training in Fort Bliss, Texas, June 6 to 20. Once they move into the Paynesville Armory, it is expected to have an economic impact which will exceed $150,000 annually,Ē Bowden said.

ďIt has been my goal to keep an active unit in Paynesville,Ē Bowden said. He explained that when placing a unit, the command looks at recruiting climate, adequate space, location and expense (rent versus own).

Bowden said that during the Cold War, the Army mobilized and deployed the reserve units eight times. During the 1990s, the Army has mobilized and deployed the reserve 28 times.

Eighty-three percent of the Armyís chemical units are in the reserves, Bowden added. Thirty-seven percent of the reserve units are in the high deployment category.

The Buffalo Transportation Unit has been stationed in Paynesville about three years.

---