Students find new uses for duct tape
This article submitted by Linda Stelling on 4/7/99.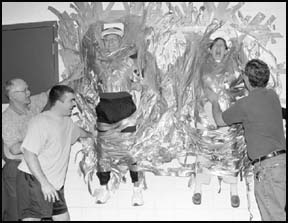 It has been said that duct tape can be used for almost anything. The Paynesville Area Middle School students found another use for the versatile tape....they taped a teacher and the middle school principal to the wall with it last week.

The eighth grade teachers challenged the middle school students to raise more than 900 pounds of food for the local food shelf. The students accepted the challenge and exceeded the amount by donating more than 1,600 pounds of food.

By exceeding their goal, eighth grade teachers planned an afternoon of activities for the students. Among the activities, the students were allowed to duct tape Murry Rafferty, eighth grade math teacher, and Deb Gillman (at right being removed from the duct tape), middle school principal, to the wall.

The students weren't allowed to bring any duct tape to school but were told they had to purchase strips of duct tape...$1 for three feet of tape. Some of the students purchased $20 worth of tape to place on Rafferty and Gillman.

Gillman and Rafferty were positioned on the top level of a choir riser. One by one the students, who had purchased tape, were called forward to place the duct tape on the dual. Faculty members were on hand to help position the duct tape on Gillman and Rafferty.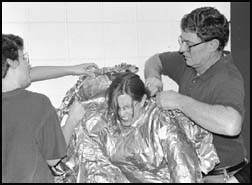 At the end of the afternoon, faculty members carefully removed the riser. Gillman and Rafferty were unsure whether the duct tape would hold them up on the wall. The tape held for a few seconds before they were helped down by faculty members: Wayne Hansen, Pat Deegan, David Dziengel, and Virg Vagle.
The proceeds from the sale of duct tape also went to the food shelf. The students raised $172 in duct tape sales.
Other activities included tricycle races, blanket race, balloon race, and a basketball game with the students taking on the teachers.
The elementary school students collected 1,774 pounds of food.
The high school students had a contest in their first hour classes. The students collected a total of 810 cans. Todd Theisen and Wally Erickson's classes tied with 10.1 cans per student. The winning classes received a breakfast pizza.
---