Virginia family enjoys first winter in Minnesota
This article submitted by Linda Stelling on 4/7/99.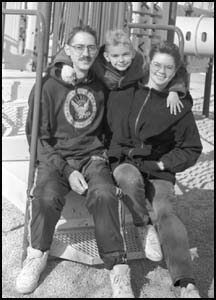 First Class Petty Officer Robert Rollick and his family, Jessie and David, moved from Virginia to Minnesota in January.

A career naval officer, Rollick was assigned a three-year tour of duty as a recruiting officer in the St. Cloud area.

When told he would be changing job descriptions, Rollick asked for a warm climate. He was told he would be moved to either New York, Philadelphia, or Minnesota. He was assigned to Minnesota.

Rollick worked as a fire control electronic system technician on F-14s. He was stationed at the Oceana Naval Air Station,Virginia Beach, Va.

"The Navy provides high tech training to its enlistees. They have a hard time keeping their men. A lot of people do one tour of duty then get a high paying job outside of the military," Rollick said.

As part of his new assignment, Rollick will be visiting 38 high schools in the area to see if any students are interested in a military career. "I'll give away items such as key chains and computer mouse pads to those who talk to me," he added.

Rollick found living in Minnesota wasn't so bad this winter. During the last snowstorm, he made it to work in St. Cloud. Only one other person made it to work and he lived in St. Cloud.

"I think it is easier to drive in the snow around here than in Virginia. The snow is drier and not as heavy," Rollick said.

Jessie said upon hearing where they would be moving, she asked friends for warm sweaters they weren't using. "We're adapting to the change in temperatures," she said.

In looking for a place to live, they saw a house for rent ad in the Paynesville Press on Lake Koronis.

An avid fisherman, Robert said he has tried ice fishing, but found the ice thicker than he thought it would be. Robert is anxious to try fishing on the lake this summer. He moved his boat from Virginia with him.

"I really marvel at the post office here," Jessie said. "Friends and relatives in Virginia have mixed up the address on our mail, yet the post office still seems to know where it should be delivered."

The Rollicks said the people in the Paynesville area have been really friendly. "Paynesville is the friendliest town I've ever been in," Jessie said. "People are always smiling and willing to help you out."

Jessie volunteers at the elementary school three days a week. "I'm very impressed with the school system. They have a great atmosphere for learning compared to David's classroom in Virginia. The teachers seem to be in tune to the kid's learning styles and they make learning fun," she added.

The couple loves the outdoors and are happy living on Lake Koronis where they see trees everywhere, unlike Virginia Beach where you can reach out and touch your neighbor's house.

They look forward to getting to know the area and more people in the Paynesville area during their stay here.
---