Relay for Life teams forming
This article submitted by Linda Stelling on 4/7/99.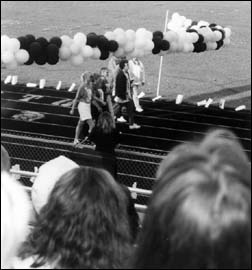 Teams from the Paynesville area are forming for the Second Annual Relay for Life at the Rocori football field on June 11 and 12.

Relay for Life is a fund raiser for the Stearns East Unit of the American Cancer Society. Those walking the first lap are cancer survivors. Relay for Life begins at 7 p.m. and will continue throughout the night until 7 a.m. There will be an opening ceremony at 7 p.m., a candle lighting of luminaries at 10 p.m., and a closing ceremony at 6:30 a.m.

Among the cancer survivors speaking at the opening ceremony is Lorraine Skrypek, Paynesville.

Entertainment and food will be available throughout the night to those participating.

Funds raised will help provide counseling services and coping support to cancer victims and their families, hospital equipment, mileage reimburse-ment if patient needs chemotherapy at a distant hospital, and literature on various types of cancer and treatment.

Last year Paynesville had seven team captains at the Relay for Life. Each team consists of 10 to 15 people.

Team captains committed for this year include: Julie Jimenez, Marlene Athmann, Brenda Stang, Peggy Bayer, Don Skrypek, Steve Stang, Patricia Reiman, Shari Heitke, and Laurie Rausch.

The Paynesville Area Health Care System is a corporate sponsor this year. Other area businesses donated as well last year.

For more information, contact Brenda Stang at the Paynesville Area Health Care System, 320-243-7712 or at her home, 320-243-3807.
---