Church group helps hurricane victims in Nicaragua
This article submitted by Michael Jacobson on 4/7/99.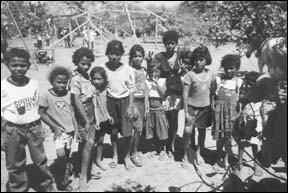 Even members of the Paynesville Evangelical Free Church who had taken an evangelism trip to Mexico last summer were not prepared for the poverty and devastation they would see among hurricane victims in Nicaragua this February.

Hurricane Mitch deluged Central America with rain in late October and early November. The storm caused mud slides and flooding that killed thousands and destroyed bridges and roads.

The seven local church members on the relief mission met the 52 survivors of a mountain village with an original population estimated at 5,000. The rest had been buried alive in a mud slide. They met amputees, 18-year-old boys and 60-year-old women. They met children without parents, and parents without children.

The members of Paynesville Evangelical Free Church paid their own way to make the relief trip in February. They joined three people from Willmar, other people from around the state, and one person from Iowa in making the trip. A total of 17 people spent 10 days in Nicaragua, from Feb. 8-18.

Going from Paynesville were: Barry Christensen, Andy Everson, Liz Hubert, Pastor Rich Hubert, Jessica Kerzman, Michele Lahr, and Gary Roberg.

The hurricane left thousands of people homeless and living in refugee camps, which is where the church group spent much of their time. The survivors still face a life-and-death struggle with needs for food, shelter, clothing, and medicine.

Before leaving for Nicaragua, the group collected donations of medicine, clothes, money, and toys from individuals and businesses. The airline agreed to give each of them an extra baggage allowance, and every person brought 140 pounds of supplies. That's more than a ton of supplies for the 17-member group.

Many of them carried all their personal clothes and supplies in a carry-on bag. "We went specifically to help with the hurricane victims," said Pastor Rich Hubert. "We took medicine and clothes."

"And, of course, we took the Gospel," he added.

One of their favorite stories was a woman they met in Managua, the capital city. Eighteen-year-old Maria had just had surgery to fix her broken arm. Maria had never been to the city, had never seen electricity or running water, and had faced a six-month wait for surgery. A Nicarguan ministry group, however, paid cash so she could have the surgery right away.

During the flooding caused by Hurricane Mitch, Maria survived in a tree, watching the mud and water flow by. Her husband, her two-year-old child, and her two-month-old baby did not survive.

While on the tree branch, Maria cried out to God to save her, the group said, and she was, both physically and spiritually. "She lost a lot in that whole thing," said Roberg. But, added Pastor Hubert, "She found God."

The group stayed in a city in the northwest corner of Nicaragua, near the border with Honduras. The city of Chinandega was about a five-hour drive from Managua. Every morning they got up at 5 a.m. and were on the road just after six. One truck brought building supplies, another picked up food, and two vans carried volunteer workers.

The refugee camps where they worked were 42 miles away near Somotillo. On that drive, they passed over five temporary bridges because the originals had been destroyed by the hurricane.

"We spent a lot of time in refugee camps," said Pastor Hubert. They helped with building projects, helped organize a feeding program, and distributed clothes, medicine, and other supplies. In one camp, they helped in the construction of a large shelter, which could be used for meals, as a church, and for school. "We held their starving babies, and...helped put food in their hands," he said.

The group felt the people were extremely appreciative of the support. The kids especially loved candy.

Beside their physical needs, the hurricane victims also needed to deal with the emotional damage caused by the loss of loved ones and the death tolls. Many victims suffered from flashbacks and nightmares. Liz Hubert said they could be the happiest people you ever saw, but currently grief, sorrow, death, and loss surrounds them.

The church group gave away Bibles and picture tracks of Biblical stories. Pastor Hubert preached twice in the refugee camps and once at a church.

Members of Paynesville Evangelical Free Church took a missionary trip to Mexico last summer where they focused just on spiritual sharing. Church members are planning on going again this July. The poverty they saw in Nicaragua was many times more severe than what they had seen previously in Mexico. People were desperate for clothes and were living in makeshift tents. "Their shacks reminded me of things I built as a kid with sticks and scraps of metal," said Roberg.

"They were basically living in desolation," said Pastor Hubert.

"The average person makes $3 a day. But there's 70 percent unemployment," he continued, "so it's pretty much hand-to-mouth existence."

There are rich people, but the vast majority are poor. "Either people were very rich or very poor. There was no middle class like here," said Pastor Hubert.

The group's relief trip originated with a conversation between Pastor Hubert and a missionary friend in Glenwood, who knew of the great need in Nicaragua. Then Pastor Hubert began talking to people in the church.

Christensen, Everson, both Huberts, and Kerzman had travelled to Mexico last summer, where they had preached, given outdoor plays, and distributed human videos and other materials. They thought they had seen poverty in Mexico, but realize now that conditions can be much worse.

"I went to Mexico last summer, and I just loved it," said Kerzman. "I thought this (trip) would be another great opportunity."

Agreed Everson, "I kind of just wanted to help out people who needed it."

Everyone agreed that they would like to go back again.

Liz Hubert has applied to go back for a full year after graduating from high school. She would like to keep working with the adopt-a-child program they helped to organize. For $20 a year, you can provide three meals a week to a needy child. Plus, the child will visit a doctor and dentist twice a year for checkups.

While in Nicaragua, they took pictures of children and gathered biographical information for the program.

The program will be done by missionary groups so there is little overhead. "All the money goes to the children," Liz Hubert said. "Nothing goes to the organization."

Call the church for more details if you are interested in aiding this project.

Roberg had not originally planned on going on the relief trip and had to rush to get his visa in time. The opportunity to change someone's life was his main motivation.

It was also the first trip for Lahr, who said God had laid it on her heart. "I just felt there was no reason not to go," she said.
---