Three Paynesville Area High School students advanced to state in speech by placing in the top three at the section meet on Saturday. Senior Melissa Andrie took first in discussion, senior Callie Frieler took second in storytelling, and sophomore Caitlin Lien took third in informative speech to advance to state.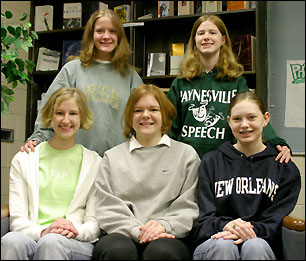 Three other PAHS students - senior Sami Tierney, sophomore Emily Mehr, and senior Maureen Flanders - also placed in the top five at sections and will serve as state alternates.
Senior Callie Frieler, senior Meissa Andrie, and sophomore Caitlin Lien (all seated in front) have qualified for the state speech meet, to be held on Friday, April 16. Senior Maureen Flanders and sophomore Emily Mehr (standing) finished in the top five at sections and will be state alternates, along with senior Sami Tierney (not pictured).
As a team, Paynesville placed fourth out of 23 teams at the section meet at Rockford on Saturday. St. Cloud Cathedral placed first, Milaca was second, and Rockford was third. Cathedral has an overall team with 60 members, while Paynesville has fewer than 20 team members.
Andrie advances to state for a second time, having competed at state in 2002 in original oratory. Discussion involves a group talk, with give-and-take like a debate, but with a goal to compromise and reach a consensus. The topic this year is poverty, and each round participants discuss a different aspect of poverty as outlined in a scenario.
For instance, participants might be charged with making a recommendation to the governor about unemployment. Or they might discuss poverty as it affects race, single-parent households, or the elderly. Each round lasts an hour.
At sections, the topic for the final round was welfare reform, said Andrie, who added that she was excited to return to state, especially in the event she really loves.
The event takes a lot of research and requires participants to stay up to date on current events and politics, said speech coach Joan Nevitt.
Last year, Andrie took first place in the first three rounds at sections but placed sixth in the finals. This year, she placed first in the finals to advance to state again.
Students are judged on what they say and how they handle themselves in the discussion.
Nevitt said Andrie is a natural leader in the discussions. "That's why she does so well," she said.
Frieler, in storytelling, must be familiar with 15 stories. At each meet, competitors draw three stories and must choose one to perform. They have a half hour to prepare and then have two to six minutes to introduce their story and give their interpretation of it.
Students do not have to memorize the story or give it word for word, but they need to follow the plot and perform it dramatically.
Frieler "is so animated," Nevitt said. "That's her strength. She really is a storyteller."
Frieler also uses lots of voices in her stories to make them interesting, added Nevitt.
In the section finals, Frieler had to give the story, "The Firebird, the Magic Horse, and the Princess Vassalisa," a story that she had not performed this year. So far this year, she has performed 10 of the 15 stories, she said. Her favorite is "The Tiger, the Brahman, and the Jackal."
Lien competes in informative speech, where she makes a business-like presentation using visual aids, said Nevitt. Lien's topic is dreams, and she explains the various stages of sleep and the accompanying type of dreams as well as gives a history of the interpretation of dreams.
Lien researched her topic and wrote her speech herself. Her category limits her to an eight-minute presentation.
Tierney took fourth place in creative expression, using a spoof on dating, called "Someday the Prince Will Come," that she wrote herself.
Mehr took fourth place in humorous speech using the Argument Clinic from Monty Python, a British comedic television series from the 1970s.
Flanders placed fifth in drama at sections, performing a scene from the play version of '"Everything I Need to Know I Learned in Kindergarten," which the high school drama department presented last spring.
Ten Paynesville students competed at sections. Senior Jenn Terres and sophomore Lindsey Pelton reached the finals in dramatic duos, and senior Peter Schreifels (prose) and sophomore Lauren Vaske (great speeches) also competed at sections but did not reach the finals.
Andrie, Frieler, and Lien will become the sixth, seventh, and eighth PAHS students to compete at the state speech meet in the past three years. In 2002, Andrie and Hannah Felling competed at state. Last year, in 2003, Courtney Colbert, Schreifels, and Tierney competed at state.
The Class A state speech meet will be held on Friday, April 16, at Centennial High School in Lino Lakes, north of St. Paul. The first round starts at 8:30 a.m.
---
Contact the author at editor@paynesvillepress.com • Return to News Menu
Home | Marketplace | Community
---