A revived local chapter of United Methodist Women hosted a district meeting at Grace United Methodist Church in Paynesville last week. Highlighting the meeting was a talk by Dana Jones, editor of Response, the national magazine for the United Methodist Women.

United Methodist Women is a mission organization, said Jones, a Chicago area native who has now been the editor of Response for 11 years. With one million members, the organization raises $20 million per year for mission work in the United States and abroad.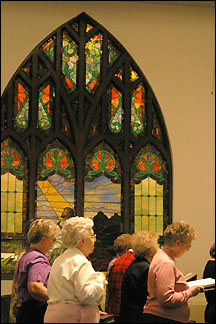 United Methodist Women provides support for global missions through the United Methodist Church, said Jones, and does outreach to women and children and works for social justice on its own. United Methodist Women supports 100 mission institutions in the United States and abroad, including women's residences, colleges, residential treatment centers, and one hospital, said Jones. The bulk of institutions, though, are community centers that provide things like daycare and services for seniors.
Around 50 members of United Methodist Women, from across the state, came to Grace United Methodist Church in Paynesville last week. A new local chapter of United Methodist Women started in January.
United Methodist Women support mission institutions abroad on every continent except Australia. (These totals include only the mission projects done by the national organization and does not include local projects done by individual chapters.)
Jones works in New York City as the editor of Response, a 35,000-subscriber magazine that tells stories about how United Methodist Women uses the donated funds and shows the impact the organization has on women and children, said Jones. The monthly magazine also covers lobbying efforts for social justice in Washington, D.C.; includes a Bible study; and profiles individual members and chapters and their efforts in ministry.
A local United Methodist Women group was formed in January with five members and has already doubled its membership to ten. It includes members from Grace and from Hawick United Methodist.
Last week's district meeting attracted about 50 women from Paynesville, Hawick, New London, and Spicer and from as far away as Minneapolis and McGregor for lunch and a meeting.
Jones, on a four-day trip to Minnesota, said she wanted to visit local chapters to speak and listen to members and learn what they are doing and what is working for them.
A big part of coming and visiting chapters, said Jones, is to express thanks to the individual members that make United Methodist Women a successful organization, to let the members know that they are part of a million strong, national organization. "If you look at one individual setting, you might not think it amounts to much," Jones explained. "But when you get them all together, they can do a lot."
---
Contact the author at editor@paynesvillepress.com • Return to News Menu
Home | Marketplace | Community
---