Twenty-two band students from Paynesville Area High School recently spent three days in the birthplace of jazz, New Orleans.

Band director Ken Vork and two adult chaperones accompanied the students to New Orleans. The group left Paynesville on Friday, March 27, spent two days on buses driving to and from New Orleans, enjoyed three days in the city, and returned on Wednesday, March 31, missing only two days of school.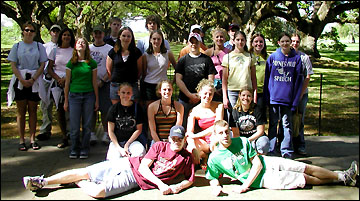 "The trip was great," said senior Bob O'Fallon. "I didn't even mind the bus ride," he added.
Because of the small number of students making the biannual trip, the band was unable to perform, but Vork believed that the opportunity to listen to and learn about jazz music in the place where it was invented was important.
PAHS band students pose in front of giant oak trees at "Oak Villas," during a recent trip to New Orleans.
While in New Orleans, the students visited a Civil War-era plantation turned into a museum; saw the distinctive New Orleans architecture, including where the movie "Interview with a Vampire" was set; visited the zoo and a beach in Biloxi, Miss.; and took a riverboat cruise with accompanying jazz music.
"The Dukes of Dixieland were amazing," said sophomore Caitlin Lien of the jazz cruise. The band played a lot of old-time jazz, said Lien, who would have loved to have played jazz in New Orleans.
Another part of the trip Lien enjoyed was the swamp tour, an excursion to a Louisiana bayou that was the hands-down favorite among students, said Vork.
According to Vork, while touring the swamp, students learned a valuable lesson about how other people - in this case the "Cajuns" - live. Students also learned about the sensitivity of the environment during the swamp tour, added Vork, who admitted that he was surprised by the ecological impact of the swamps.
"The swamp was suspenseful," said senior Chad Stang, who thought it was eerie when he saw alligator eyes floating in the water. "We had a great tour guide in the swamp," he added, which made the excursion even more enjoyable.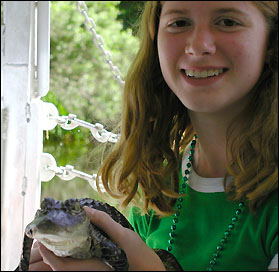 On the swamp tour, many students got to handle a baby alligator.
Emily Mehr holds a baby alligator in a Louisiana swamp during.
O'Fallon also said the swamp tour was his favorite part of the trip, mostly because after spending days in the city, it was nice to be someplace quiet.
O'Fallon also enjoyed the Mardi Gras Museums, where he and his friends had fun trying on Mardi Gras costumes and masks.
One of the high points of the trip for sophomore Emily Mehr was a visit to a flea market, where they bartered for goods and saw street performers including a man that posed as a statue and changed positions only when someone paid him.
Mehr also enjoyed the tour of a Civil War-era plantation that had been restored and operated as a museum. There, students got a glimpse of southern history and saw how people lived more than 200 years ago.
Mehr also loved the houses in New Orleans and the architecture. She especially liked the "painted ladies" or large Victorian houses in New Orleans that were painted in nearly every color imaginable, including one house with hot pink siding and turquoise shutters.
What surprised Mehr were the homes in the poor section of town, which left her overwhelmed with sadness since she had never seen such poverty.
According to Stang, what made the trip outstanding was its unstructured aspect. Because outings were loosely organized, students had chances to explore on their own.
Vork is pleased that his students had a good time. Next time, said Vork, he hopes more students are able to go, and he hopes to add some performances to the trip.
---
Contact the author at editor@paynesvillepress.com • Return to News Menu
Home | Marketplace | Community
---