Greg Hansen grew up on Lake Koronis as a Van's Beach junkie, as the city beach on Koronis is commonly called. But his two-year-old son would rather swim in an aquatic park than a lake, he explained, which is why Hansen volunteered to join the aquatic park committee.

"That's why I'm on the committee Éfor my kids," said Hansen, who is a co-chair of the pool committee, representing Paynesville Township. Pool supporters, like Hansen, see the proposed aquatic park - which will be put to a vote in the city and township on Tuesday, April 20 - as another attraction to the Paynesville community.

Instead of a drain - people leaving town to use a pool - having an aquatic park in town could be a magnet for out-of-town people to come to Paynesville, said pool committee member Cliff Rossler.

"I think anytime you add an amenity to your town you're adding to the quality of life," said Mary Janotta, the other pool committee co-chair, representing the city.

The pool committee, which has worked on this project for 18 months, feels they have made a good proposal for Paynesville with their aquatic park design. They were conscious of cost, hired good consultants, and developed an affordable yet attractive aquatic park at a great location.

"The bottom line," said Hansen, "is we've done our homework."

Various committee members have visited aquatic parks in Glencoe, Pipestone, Slayton, and Tracy. Hansen and his wife took their two-year-old son to the aquatic park in Pipestone, where he had a blast, spending the whole day at the park. At the lake, Hansen said, his son gets bored in less than an hour, and it is not as pleasant of experience due to the rocks on the beach, due to the waves, and due to the cold water. But the warm water and fun features kept his son entertained for hours at the aquatic park.

In Rossler's Wisconsin hometown, an aquatic park was built right next to a lake, he said. His kids spent seven hours at the park, much longer than they would have swum at the beach, he said.

Adding a swimming pool to his resort was "the best thing I ever did," said township clerk Don Wiese, who owns and operates Stone Gate Lodge on Lake Koronis and served on the pool committee as a nonvoting member. Now he has guests that come to his resort just because he has a pool.

Another committee member, Brad Skoglund, got involved in the pool project when visiting baseball teams would ask him at local tournaments where they could go and swim between games. He'd tell them about the city beach, but they'd say that they wanted to swim in a pool. So these teams went to Belgrade or Watkins to swim and spend their money. "It broke my heart to tell people that we didn't have a pool, and we had to send them out of town," said Skoglund.

The big benefit of an aquatic park, according to city administrator Steve Helget, is what it would bring to Paynesville, as the facility would benefit year-round residents of Paynesville, seasonal residents to the area, and tourists visiting Paynesville.

One of the big benefits of the proposed aquatic park is a safe, public place for kids to swim, agreed pool committee members.

Hansen, a beach junkie when he was a kid growing up in Paynesville, said parents no longer feel safe allowing their kids to leave on their bikes in the morning and trust that they will get home safely for supper, like he did. The world has changed, and parents want their children in a safe place.

Plus, an aquatic park - with a controlled area and clear water - should be easier to lifeguard, improving safety compared with the city beach.

An aquatic park "complements the lake. It's not competition," said Jay Thompson, a pool supporter who spent 100 days sailing on Lake Koronis last summer. If more people take swimming lessons and get comfortable with water predicts Thompson, then they will be more willing to do activities on the lake.

While water quality on Lake Koronis has improved some in the past decade, said Wiese, who has served on the board of the Koronis Lake Association for the past 20 years, it still is not as good as a pool.

Features
The location, features, and design of the proposed aquatic park were picked by the pool committee.

The proposed aquatic park would be located on school property next to the high school student parking lot.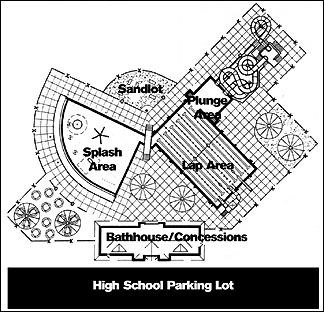 The #1 feature of the aquatic park, which will have a pool area of 6,534 sq. ft., is heated water, according to Bill Deneen, an engineer with USAquatics who guided the feasibility study for the proposed Paynes-ville Area Aquatic Park.
This feature is easy to overlook but is really important because with heated water the public will be able to use the aquatic park as soon as the weather warms each summer, whereas it takes a month of warm weather to heat lake water, said Deneen. Heated water provides an outdoor aquatic park with an estimated season, from Memorial Day to Labor Day, of nearly 100 days, of which 90 or so should have weather suitable for swimming.
Other park features are a flume slide (with at least two turns to keep people interested); a diving well with a drop slide and diving board; a competition-length lap pool (for water aerobics, lap swimming, and swimming lessons); and a zero-depth-entry (beach-style) area with shallow water and play features.
The pool committee picked the most important needs and wants for the aquatic park with the help of Deneen. Since the committee was diverse and had diverse wants and needs, this led to a well-rounded park proposal, they said.
The committee wanted the aquatic park to be suitable for swimming lessons, including advanced classes that require diving, lap swimming, and deep water; to zero-depth entry for nonswimmers, whether toddlers, older children, or adults; and to have slides and play features to keep kids interested in the park.
The goal, said Deneen, is to create a family-friendly facility, a place where grandparents can bring their grandchildren for an afternoon, where children of all ages can have fun, and where parents can sit in the shade and watch their kids swim.
Swimming Lessons
Community Education has been offering swimming lessons at the indoor pool at Rocori High School in Cold Spring for about 10 years, since lessons were discontinued at the city beach. If an aquatic park is built in Paynesville, Community Education would like to offer lessons here instead, said director Matt Dickhausen.
While the staff at Rocori is great, he said, Paynesville does have to settle for times based on their schedule. This year - starting ironically on Tuesday, April 20, the same day as the aquatic park election - students will make six trips to Rocori over three weeks for swimming lessons.
Unfortunately, the times and classes are limited, with some advanced classes not offered due to not having enough students, which is not the most convenient for people, said Dickhausen.
Out-of-town lessons are also expensive due to the need to pay for transportation, added Dickhausen. Having swimming lessons back in Paynesville would hopefully be less expensive while allowing more offerings and still being more convenient for students and parents, said Dickhausen.
Due to the limited time and lesson offerings and the cost, participation in swimming lessons through Community Education has dropped in the past 10 years. In 1994, 219 students took swimming lessons through Community Education, while in 2003 only 44 did.
Now, many parents opt to drive their kids to swimming lessons out of town, many at the closest pools in Belgrade and Watkins. "There's a steady stream of cars that leaves Paynesville (for swimming lessons out of town)," said committee member Laurey Malling.
And if you have one child with lessons at 9 a.m. and another not until 11 a.m., time-strapped parents may run a few errands like grabbing groceries or filling the car with gas while out of town, added Malling.
Instead of people leaving town for swimming lessons, the pool committee hopes that the proposed aquatic park will be so nice that it will attract out-of-town users.
Operating Costs
A point of contention between pool supporters and pool opponents is whether the aquatic park will need to be subsidized. (While the city and township have agreed to split the cost of building the facility, if voters agree, with the division of $775,000 for the city and $475,000 for the township, the city alone will run the facility and be responsible for operating and maintenance costs.)
The pool committee proposed an aquatic park because its very popularity allows it to generate more revenue through more return visits and greater concession sales. "It's been shown that a regular rectangular swimming pool doesn't bring in the revenue you need to support a pool," said Janotta. "Whereas an aquatic park brings people for longer. And it brings people from out of town."
With heated water, it is possible to have swimming lessons, even lap swimming, in the mornings and then have open swimming in the afternoons and possibly in the evenings, too, depending on staffing and demand. "We all believe people will come, (that) we'll get the numbers they're projecting," said Helget.
USAquatics estimated the annual operating costs of the proposed aquatic park - including salaries, supplies, utilities, maintenance, and future improvements - at $66,250. To break even, the aquatic park would need to average 294 patrons per day at an average rate of $1.50 for admissions and $1 for concessions.
The actual hours and fees for the aquatic park have not been set yet. The pool committee would oversee construction and probably would set the initial fees. After that, the Paynesville Area Aquatic Park would likely be governed by the city's park committee and, ultimately, by the city council, said Helget.
The pool committee is considering having daily fees, punch cards (offering multiple visits at a reduced rate), and season passes for families and individuals. While the passes would likely average less than $1.50 per day (depending on use), the daily rates would likely be more.
If the aquatic park did not come close to breaking even, the city could raise its rates to generate more income from the park. Still, Helget said, the aquatic park may need to be subsidized, but it should need less subsidizing than other pool options - either a plain rectangular pool or an indoor pool.
The aquatic park would also get priority when it came to staffing for lifeguards, said Helget. This does not necessarily mean that the city beach would not have lifeguards, he added, but if a $1.25 million facility is built, staffing it with lifeguards would be the top priority. If enough lifeguards were available, then some staffing might continue at the beach.
Having a public pool, a safer place for kids to swim, would reduce the need for lifeguards at the beach anyway, said Helget.
---
Contact the author at editor@paynesvillepress.com • Return to News Menu
Home | Marketplace | Community
---