The PAHS speech team placed second at subsections last week, taking home the runner-up trophy for the second straight year.

This is believed to be the first time the speech team has finished second in the subsection two straight years, said coach Joan Nevitt.

Rockford won the Section 5A South Subsection on Tuesday, March 29, with 56 points. Paynes-ville was second with 38 points, beating Buffalo Lake-Hector/BOLD (36) by two points and host ACGC (30) by six points.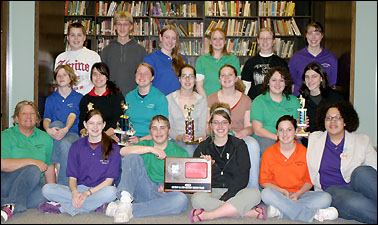 The PAHS speech team took second in the Section 5A South Subsection at ACGC on Tuesday, March 29, finishing as subsection runner-up for the second straight year. Team members, pictured with their subsection plaque and other trophies, are: (front) coach Joan Nevitt, Caitlin Lien, Troy Gerding, Amanda Kern, Kim Kulzer, and Courtney Colbert; (middle) Emily Mehr, Stacy Lahr, Lauren Vaske, Katrina Daby, Karla Leitzman, Meghan Doll, and Natasha Fangmeier; (back) Ralph Daby, Peder Thompson, Erica Geurts, Hailey Bundy, Ashley Frank, and Lisa Lenzmeier.
Seventeen PAHS speech team members placed in the subsection competition, and 11 earned the right to advance to section competition by placing in the top six in their event. The Section 5A competition will be held at Sauk Centre on Saturday, April 9, with the first round starting at 9 a.m.
Placing first were junior Caitlin Lien in informative speech and junior Ashley Frank in original oratory. Placing second were eighth grader Karla Leitzman in storytelling, senior Lisa Lenzmeier in original oratory, and junior Emily Mehr in humorous speech.
Placing third were sophomore Hailey Bundy in discussion, eighth grader Ralph Daby in storytelling, senior Amanda Kern in extemporaneous reading, and junior Lauren Vaske in great speeches.
Junior Courtney Colbert was fourth in drama, and senior Stacy Lahr was sixth in original oratory, giving PAHS three of the top six in that event.
Lien placed first with her informative speech about Alexander the Great. This event involves researching a topic (in Lien's case the history of the ancient Greek conqueror), analyzing the information, and presenting an organized speech intended to be informative, including pictures and diagrams. She qualified for state last year in this event with a different topic (dreams).
Frank, in original oratory, won with her speech about bullying in school and what should be done to curb it. She also needed to research her topic and write her speech.
Lenzmeier gave Paynesville a 1-2 sweep in original oratory. Her speech deals with the perception of farmers, a topic that she got from a discussion event two years ago, when another speech contestant blamed all the environmental problems on farmers, which irritated Lenzmeier, who lives on a dairy farm near Lake Henry.
Mehr placed second in humorous speech and advanced to sections again. Her speech this year is based on a Monty Python skit, "Election Night Special." Last year, she placed fourth at sections and was a state alternate with another Python skit, "The Argument Clinic." Leitzman and Daby, both eighth graders who joined the varsity after the completion of the middle school speech season, placed second and third in storytelling. This event requires students to pick three stories (out of 15 total) and give one by heart with voices, movements, and gestures. In the middle school, storytelling involves only 10 total stories, so Daby and Leitzman each had to add five stories to their repertoire. Kern, a senior captain, placed third in extemporaneous reading, an event that involves voices and animation like storytelling.
Bundy was third in discussion, an event that requires participants to discuss aspects of a topic with the goal of finding a concensus. This year's topic for discussion involves free speech, copyright laws, and the Internet.
Vaske advanced to sections again in great speeches. Her event involves giving a famous speech and anayzing it. This year, Vaske chose a speech by Adolf Hitler from April 1933, where the German dictator addressed his SA and SS troops in Berlin. This speech interested Vaske for the fallacies in its logic and how Hitler was able to persuade these troops to carry out such unthinkable things, she said.
Colbert, who advanced to state in poetry two years ago, placed fourth in drama with a piece entitled "For Colored Girls Who Have Considered Suicide." She started in poetry this year until they learned that this was originally a play and needed to be done in drama.
Ninth grader Nathasha Fang-meier was eighth in prose and qualified as an alternate to the section meet. Sophomore Erica Geurts tied with Fangmeier and finished ninth in prose.
Senior Troy Gerding tied for sixth in humorous speech but finished fourth in a five-way tiebreaker and finished ninth.
Paynesville were ninth grader Kim Kulzer (ninth in storytelling), sophomore Peder Thompson (tenth in drama), and ninth grader Katrina Daby (14th in drama).
Team scores
1. Rockford...56
2. Paynesville...38
3. BL-H/BOLD...36
4. ACGC...30
5. New London-Spicer...23
6. Glencoe-Silver Lake...20
7. Norwood Young America...10
8. Watertown-Mayer...7
Individual Results
Discussion: Hailey Bundy, third;
Drama: Courtney Colbert, fourth; Peder Thompson, tenth; Katrina Daby, 14th;
Extemporaneous Reading: Amanda Kern, third;
Great Speeches: Lauren Vaske, third;
Humorous Speech: Emily Mehr, sixth; Troy Gerding, ninth;
Informative Speech: Caitlin Lien, first;
Original Oratory: Ashley Frank, first; Lisa Lenzmeier, second; Stacy Lahr, sixth;
Prose: Natasha Fangmeier, eighth; Erica Geurts, ninth;
Storytelling: Karla Leitzman, second; Ralph Daby, third; Kim Kulzer, ninth.
---
Contact the author at editor@paynesvillepress.com • Return to News Menu
Home | Marketplace | Community
---