Last November, Voss Testing Laboratory purchased Neu's H2O from Al Neu, who had owned and operated the business since 1983.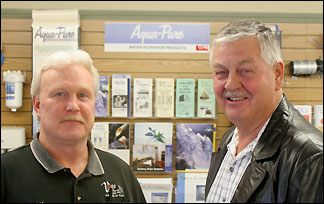 Adding the stock and client base from Neu's H2O enhanced the line of water-treatment options at Voss Testing Laboratory by supplementing their reverse osmosis filters with distillers, said chemist Rick Hazelwood of Voss Testing Laboratory, which is owned and operated by Voss Plumbing and Heating.
Al Neu (right) sold Neu's H20 after 22 years in business last fall and now works with Rick Hazelwood (left) at Voss Testing Laboratory.
Some customers, especially in the Paynesville area, prefer distillers, said Hazelwood, to a reverse osmosis filter (a membrane filter). A distiller uses heat to boil the water, which is then condensed as purified water. Distillers are very effective at killing bacteria, said Hazelwood.
Voss Testing Laboratory, according to Hazelwood, is state certified for fluoride, lead, nitrates, nitrites, and bacteriology (total coliform and e coli). They also can test for nuisance minerals (such as iron) in water. They are also certified for radon (gas) testing and mitigation.
Whereas Neu's H2O used to outsource their water tests, Voss Testing Laboratory is able to do the testing and sell water treatment products. Some of their customers are: real estate sales (required for FHA loans), well drillers, daycares, foster care homes, and municipalities (Paynesville and Willmar).
They also market their services to homeowners who are concerned about their water quality. Voss Testing Laboratory added a client base of nearly 1,000 from their purchase of Neu's H2O.
Al Neu started his business in March 1983 at his home on Rice Lake, moved it to downtown Paynesville in July 1983, and sold it last November after 22 years in business.
He is now a part-time sales consultant for Voss Testing Laboratory and is semi-retired. He likes to fish, to golf, and to travel with his wife Mary.
Hazelwood joined Voss Testing Laboratory in 2005. He moved to Paynesville in 2000 and lives with his wife Lori on Lake Koronis.
---
Contact the author at editor@paynesvillepress.com • Return to News Menu
Home | Marketplace | Community
---