Should Dennis Olmscheid's health condition improve, should a medical advance allow him to regain the use of his legs, his family wants him to be ready, which is why they advocated for a new foster care home for people with physical disabilities in Paynesville.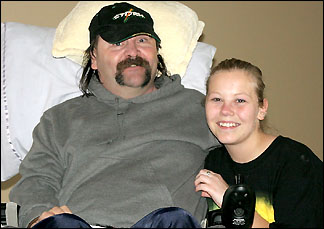 Catholic Charities, which operates 40 programs in 16 counties in central Minnesota, built their first-ever foster care home for people with physical disabilities this fall and winter in WilGlo Acres on the west end of Paynesville.
Olmscheid moved into his new home in mid-March.
Dennis Olmscheid, 48, moved into Catholic Charities' new foster home for people with disabilities in mid-March, where he enjoys the care provided by Mariette Benoit, a certified nursing assistant.
The 4,000-sq. ft. patio home is designed for wheelchairs, with extra wide doors, roll-in showers, and appliances and electrical outlets designed for wheelchair accessibility. "It turned out nice," said Dennis, "nice and roomy."
It sits on a residential street in WilGlo Acres and looks like any other residential house, though it does have a little more traffic due to staff coming and going.
Four nursing assistants regularly cover the 24-hours-per-day, seven-days-per-week supervision schedule at the foster care home, said supervisor Marisa Ziemetz. Plus, the home has other staff as needed. Their staffing allows for more one-on-one rehab than at a typical nursing home, she added.
Their family wanted "a better lifestyle for Dennis," said his brother Randy Olmscheid, who worked with his brother Gary Olmscheid to contact Catholic Charities and propose this project to them.
"The Gary and Randy Olmscheid families have been the drivers of this project," said Steve Bresnahan, executive director for Catholic Charities, at the groundbreaking for the house in September 2005. "It was because of the need to find a suitable living arrangement for their brother, Dennis, who had been severely injured in an accident, that Catholic Charities became involved." The family contacted Catholic Charities after deciding that building a house for Dennis themselves would not be feasible, said Randy. "They did the research and found a need for this," he added.
"There are so many people in Dennis's shoes, younger people (who) don't belong in a nursing home," he continued.
Dennis shares the homelike environment with three other residents. It's easy to get around the house and along with the three other residents, said Dennis. The other day, they had chocolate chip pancakes for breakfast, reported Dennis.
The staff also can take the residents on trips to town, said Gary.
Trips may be for shopping, personal care, and movies, added Mariette Benoit, a certified nursing assistant (CNA) at the house. She does physical and speech therapy, cooks, and takes them on trips. "My main goal," she said, "is just to make sure that the guys are happy."
Benoit did her clinical rotations at a nursing home but has since worked for five years as a CNA in foster homes. She wanted to work in a more personable environment, giving the residents attention, affection, and entertainment. "I want to treat these people as people," she explained. "They're in wheelchairs and don't have a full range of motion, but they can live a full life."
The ability for Dennis to have more one-on-one interaction with staff and to have therapy (sometimes two or three times per day) is what motivated his family to pursue this living arrangement. Dennis, 48, injured his spinal cord in an auto accident in July 2003, leaving him as a quadriplegic.
But, Dennis has regained full mobility in his left arm, he is working to improve his movements in his right arm, and he can still feel things in his legs, he reported. He is also working on regaining strength and mobility in his hands.
His family has ordered a bike attachment for Dennis's wheelchair, which will work the muscles in his legs for an hour or two each day. Their goal is for him to retain muscle mass and range of mobility.
Hopefully, new technology - possibly stem cell research - will also help Dennis to improve his condition, said Randy. At 48, he still has time for medical advances to help him. "It can't hurt," said Randy of the bike working his brother's legs. "You've got to be hopeful."
The family also could purchase an arm attachment for his wheelchair to work his upper body. Even if he remains in a wheelchair, a stronger, more flexible upper body would improve his quality of life.
Dennis went turkey hunting and deer hunting last year, using a stand to hold his shotgun. Maybe it's possible that he could improve his strength enough to go hunting without a stand someday.
The house is mostly finished, except for window blinds and a patio on the back. Dennis, whose room looks north over the future patio, is looking forward to being able to go outside and spend time on the patio. As a long-time amateur baseball player, he also looks forward to going to games this spring and summer, and he wants to resume his trips around town in his motorized wheelchair - including to Spanier Welding, where he used to work - once he gets a flag for his wheelchair for visibility.
The credit for the home, according to Gary and Randy, goes to their whole family and to Catholic Charities. Dennis has nine siblings and three daughters - ages 22, 20, and 18. His parents, Jerome and Lorraine Olmscheid, live in Lake Henry.
Hopefully, the foster care home for people with physical disabilities in Paynesville will serve as a template for Catholic Charities, added Randy. (Catholic Charities has other foster care homes, but this is their first for people with physical disabilities.)
The house shows that donations to charitable causes like Catholic Charities work, said Randy.
---
Contact the author at editor@paynesvillepress.com • Return to News Menu
Home | Marketplace | Community
---