Tech club does behind the scene work at programs
This article submitted by Linda Stelling on 4/4/01.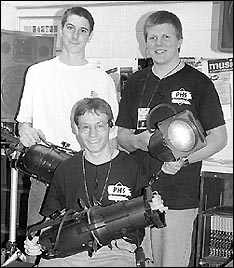 Anyone who has been to a high school play production, concert, or coronation has seen the Tech Club in action. They just might not have known it.

The Tech Club—seniors Jesse Neu and Peter Schmiesing and junior Steve Johnson—work behind the scenes at all sorts of events. They set up and take down equipment and operate and maintain the lighting and sound system for school functions.

Nathan Brown and Mike Hayenga started the club around 1996. There was no one to run the equipment for programs and the two boys stepped forward to run sound and lights.

Members of the Tech Club are jesse Neu (seated), Steve Johnson (left) and Peter Schmiesing.

Neu moved to Paynesville in 1997, his freshman year and joined the club. He had worked on the stage crew for musicals at his former school, BOLD, and the Tech Club was the closest thing Paynesville had to it.

Schmiesing and Johnson joined the club last year.

Johnson enjoys the camaraderie of the group. Neu said his favorite part of the club is setting up the equipment and then testing the sound and lights. Schmiesing enjoys working with the lighting system and seeing that everything is set up properly and looks nice for concerts. They feel the Tech Club is a good way to volunteer their time and have their own field of specialty.

The threesome have helped with plays, concerts, school dances, and the grand march at prom. They have also run the sound system when the danceline performs at basketball games.

They have nursed the old equipment along, applying duct tape where needed so the light board would hold together through one more production. "Duct tape is our secret weapon for everything. When in doubt, use duct tape," Neu said.

Johnson suggested the present equipment could be moved to the antique section of the school once the new auditorium is completed.

Cheryl Bungum, the club's unofficial advisor, said this probably would be the last year for the club. Next year, programs will be held in the new auditorium with all new equipment, which may be off limits to students. Music staff members and their spouses will be trained on how to use the new equipment. They will be volunteering to operate the sound and lights for each other, Bungum said.

Neu will attend Ridgewater College in Willmar for wireless communication after graduation. Schmiesing plans to continue working at AMPI following graduation.

Johnson will be a senior next year and plans to attend Alexandria Technical College for heavy diesel technician training after graduation.

Though they tend to work anonymously in the dark at productions, their work has been noticed and not just by the local audience. After helping with the recent Prairie Fire Children's Theatre production and the Mitch McVicker concert, the boys were offered jobs as sound and light technicians.
---