Stearns manufacturing plant closes unexpectedly
This article submitted by Linda Stellin on 4/4/01.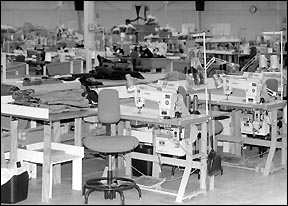 On Friday morning, the local Stearns Manufacturing plant - which sews life vests and other aquatic equipment for the Sauk Rapids-based company - received what seemed to be a routine truckload of supplies from the main plant in Sauk Rapids.

These supplies turned out not to be routine at all. They were the last supplies to reach the plant, which unexpectedly closed later in the day.

A few hours later, the 54 employees were told to go home and not to come back to work. "There was no warning," said MaryAnn Meyer, an employee at Stearns since it opened in 1993.

Employees were informed of the closure by Stearns executives from Sauk Rapids at a mass meeting on Friday afternoon and were told to collect their personal items and leave for good.

Margit Cole, another employee who has worked at Stearns since it opened, said the closing came as a complete shock to the employees. "We were told to gather up our belongings and leave," Cole said. Earlier on Friday morning, the company executives were in Carlton and told the 78 employees there to go home.

"It was not a pleasant announcement to make," said Dave Cook, the company president. "We feel the work can be done in our three remaining facilities. Our business is as healthy as it can be with today's economy," he added.

According to Cook, the company consolidated their five plants into three. The plants that will remain open are in Grey Eagle, Sauk Rapids, and another in Asia.

Equipment and materials from the Paynesville and Carlton plants, including the recently delivered supplies, now will have to be distributed to the other plants.

The employees were all given 60 days of severance pay and vacation pay depending on how much time they had earned. Instead of a lump sum, the severance pay will be paid weekly.

Employees were given the option of continuing their insurance and 401K through the company for a year. Meetings with former employees will be scheduled to assist them in deciding about options with their pension and 401K plans, Cook said. As openings arise at either the Sauk Rapids or Grey Eagle plant, employees will be given the option of applying, he added. If employees are interested in retraining, Stearns has notified the Minnesota Work Force Center.

Employee reaction
Meyer said she enjoyed her work at Stearns. "I've had a couple of sleepless nights as a result of the closing," she said. "The way they closed the plant makes a person feel we were inadequate."

"I think it was too convenient for all of us. We could work close to home and be off work by 3:30 p.m.," Meyer said.

Her team of sewers put out 1,000 life vests per day. Meyer explained that when employees met certain quotas, they were given bonuses. "I was working for insurance purposes. Now I have to look for something different," she added.

Cole also has a part-time job, which she plans to use for spending money until she decides about her future.

Another local resident, Donna Heinen, was employed at Stearns for more than seven years as a sewing machine operator. "I'll think over my options," she said. "Maybe I'll go back to school and learn a new trade. My children are older and I don't have to pay for daycare."

Heinen said the closure came as a complete shock to the sewers as well as the office personnel. "I feel things will work out all right. I'm not going to panic yet," she added.

Plant history
Stearns Manufacturing, which started as a family company in Sauk Rapids, was sold 12 years ago to the K2 Corporation, according to Cook. Now, Stearns is one of ten divisions of the Los Angeles-based corporation.

In June 1992, Stearns Manufacturing went into partnership with the city of Paynesville, Paynesville Township, and Stearns County Economic Development.

The city built an 18,000 square foot building in the industrial park to Stearns' specifications. The value of the land and building at the time was about $450,000.

The city of Paynesville and the Economic Development Authority of Paynesville provided a 10-year lease to Stearns. There was no cost to Stearns for the first five years. At the start of the sixth year, the company was required to pay $1 per square foot per year for the second five years.

Ground was broken the first week of October 1992 for the plant and the first set of employees started in May 1993. Governor Arne Carlson attended the ribbon cutting ceremony and delivered a $250,000 check to the city for an economic development recovery grant.

Part of the state grant was contingent on Stearns having 100 employees at the Paynesville plant, a feat the company, despite its best efforts, never managed. Consequently, it had to repay part of that grant. The company's goal was to employ more than 120 people at the plant, but they had a high turnover of employees and seldom had over 70.

Dennis Wilde, city of Paynesville administrator, checked into the financial aspects of their closing. Stearns has paid back the state, but still owes the city $30,000. Plus it has to pay $1,500 monthly in rent until December 2002, according to Wilde.

"We will be honoring our lease unless a new occupant is found," Cook said.
---