Spring field work delayed by snow
This article submitted by Linda Stelling on 4/4/01.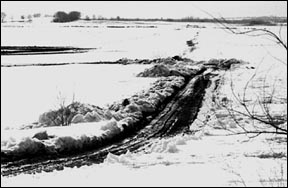 After two years of very little snow, farmers are having to patiently wait for the snow to melt so they can start working in the field this spring. Last year at this time, farmers had already started spring field work.

Larry Rien, who farms east of Paynesville, said the amount of snow in the fields is unbelievable. "In some places we have six inches of snow, then there are two-foot drifts," he said.

Last week a farmer used a snow blower to gain entrance to his field before he could haul manure. The snow depth on fields varies from six inches to two feet.

Last week many farmers were busy cleaning manure pits and cow yards. They wanted to be able to haul manure onto fields before the fields became too muddy. In some cases, they had to use a tractor and snow blower to open the fields before gaining entry into the field.

With the above freezing temperatures, farmers are unsure how long they will be able to haul manure before the ground becomes too muddy.

Dan Martens, Benton County extension educator, said things are working out well for farmers. Last fall, September and October scarcely had any moisture. Soil conditions were dry. The rain in November helped the soil conditions.

With dry soil conditions, there has been very little runoff from melting snow. The water has been replenishing the subsoil moisture conditions.

Last fall many of the ponds and creeks in the area were dry. "In order for the creeks, rivers, and lakes to remain stable, we need to have highly charged subsoil," Martens said. The snow melt should help recharge the subsoil moisture levels, he added.

Under normal conditions, farmers aren't in the fields until the last week of April, Martens said. "I don't expect a whole lot of field work done before April 15," he added.

Neal Jones doesn't think he'll be in the fields for another three to four weeks. "I had my oats all planted last year by March 28," Jones said. "This year I can hardly haul manure. Either there was too much snow or now it's getting too muddy."

"There was never a lot of frost last fall," Martens said. The snow started falling before the ground had a chance to freeze and stayed all winter. The snow insulated the ground, preventing it from freezing too deep.

"If the fields are anything like our lawns, the moisture is going straight down," Rien said. He has large snow piles on his yard, but very few water puddles as the ground is absorbing almost everything.

Up until now, the snow has been melting slowly, enabling the water to seep into the ground.

"I don't think there is much frost as there is little or no runoff. All the water is going into the ground," Jones said.

Their farm, south of Lake Koronis, is situated on a hillside with a stream below. Jones said there isn't any water moving yet. "I don't think we had enough snow to melt and fill the slough," he added. "Everything is seeping into the ground."

Jones feels we need a good rain shower or a week of 50 degree temperatures to help eliminate the snow. Then it will take a good two weeks of drying weather before anybody will be able to get into their fields.

Rien, who already had started planting small grain a year ago, sees the weather as the latest gamble for farmers. "Last year I already had small grain planted. "I can't take farming too seriously with the low prices. I'd probably get better odds at Las Vegas," Rien said.
---