The war in Iraq hits painfully close to home for local families who have sent or may send loved ones to fight for America in the Middle East.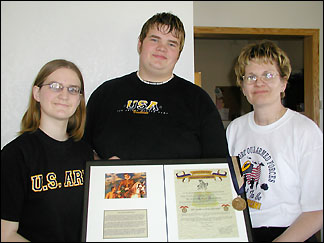 The possibility that their loved ones may not come home weighs heavily on the families of soldiers. "I may never see my father again," said PAHS senior Adam Leyendecker, whose father, Mark, is a sergeant in the 825th Quartermasters, a reserve unit in Willmar. Mark isn't in the Middle East yet. His unit was activated and sent to Fort McCoy in Wisconsin in early February, where they wait with several other units. But Adam knows his dad's departure for the Middle East is inevitable.
Mark Leyendecker's family, (from left) Becky, Adam, and Janelle, display Mark's St. Martin's Award for outstanding reservists. The award was presented to Mark just before he left for Fort McCoy in February.
The 704th Chemical Company, a chemical reconnaissance reserve unit stationed in Paynesville, has also been at Fort McCoy since mid-February. It, too, is waiting to ship out to the Middle East.
Ron Stransky is a member of the 353rd Transportation Company in Buffalo, a fuel hauling unit, and he has been in the Middle East since late February. "I'm worried about Ron, of course," said his ex-wife Karla, "but mostly I'm worried about our kids." According to Karla, nine-year-old Jessica is afraid she won't see her father again, while 12-year-old Justin is also worried but tries to stay brave for his dad.
Steve and Viv Wright of Hawick just got word that their son Derek is headed for Iraq, but they don't know when yet. Derek, an Army infantryman stationed at Fort Hood, Texas, is attached to the First Calvary. He is the group leader for five soldiers who will be carried by a Bradley armored vehicle. Once in Iraq, Derek and his men are expected to exit the tank fighting.
"I'm scared to death," said Viv, a single tear rolling down her face. Even though it's painful for her to know her son could soon be in harm's way, she takes comfort in the fact that Derek is confident his decision to join the army was the right choice and she supports him.
Just having a loved one in the military now can be stressful, even if he or she isn't headed for the war. Airman Scott Braun, a 2000 graduate of PAHS, is stationed in London, England, where he is doing on-the-job training in aircraft electrical maintenance. It is unlikely he will have to go to the Middle East, but his mother Mary still worries. She knows it is always possibile for any military member to go to war and she just has to wait and pray.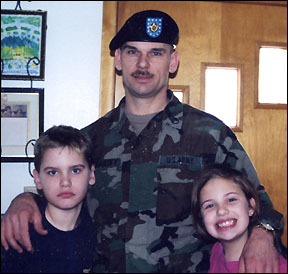 Fear is made even worse by the lack of communication from military members. While Ron Stransky is overseas, his kids wait for mail, for phone calls, for any word about where their father might be and how he is. The last time they heard from him he was in Kuwait moving north. He sent each of his children postcards from Kuwait, but the postcards took nearly two weeks to arrive. The postcards tell them where he was and that he was all right then, but a lot can change in two weeks during wartime.
While Ron Stransky fights for his country in Iraq, his children, 12-year-old Justin and nine-year-old Jessica wait at home.
According to Karla, phone calls from Ron are rare since there is a long line whenever a phone is available. E-mail for many of the units in the war, including Ron's, is blocked.
Keeping her kid's spirits up amidst almost constant news coverage of the war has been difficult, said Karla. Jessica cries for her father at night and has begun to have nightmares. Karla doesn't let Jessica watch war coverage on television and the news is off limits at home. Since Justin is older and has a better understanding about the war, he watches a limited amount of war coverage, mostly at school.
Television coverage of the war has proven to be a mixed blessing for the Leyendeckers. Adam and his sister, Becky, a ninth grader, watch some news about the war, but usually it's too hard for Becky, whose teachers have been excusing her from watching CNN at school. Their mother Janelle, however, said she watches all the time, even though she doesn't want to. She's just drawn to it, she said.
A lot of prayer and support from the community, as well as from the unit's family support system, is what has helped Karla and her children cope since Ron's departure. The school has offered unwavering support to the children, she said. Paynesville Area Elementary School offers regular counseling to those children whose parents have gone to war, and Jessica's whole class wrote letters to Ron. One of Justin's teachers has even been able to help him track the location of his father's unit. Just knowing where his father is has helped Justin cope a little better, according to his mother.
Knowing that there are people that don't support the war is difficult for the Stranskys as well as the Leyendeckers. Even at his tender age, Justin said he understands what effect protesters could have on the troops. "I don't like them," he said. "Even if they don't support the war, they should support the troops."
Adam believes protesters hurt the war effort. "War is already there," he said. "We have to support whatever happens now."
"I don't think anyone is pro-war," added Janelle. "It's just something that has to be done."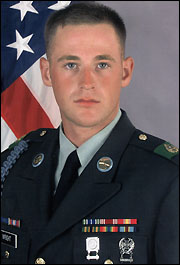 Mark Leyendecker can't go far from Fort McCoy because his unit must be ready to deploy at any time. His family has visited him in Wisconson, and they know that every visit may be their last before Mark goes overseas. Since Mark's unit carries water, Janelle thinks their services will be needed soon, and she is positive the unit will be needed after the war for humanitarian work.
The Leyendeckers have also accepted that Mark may be overseas for some time, that he will miss Adam's high school graduation. So they invested in a computer to make DVDs of that and any other events he will miss. (The American Legion Post in Willmar gave his unit a DVD player before it shipped out.) They are praying that the war ends and he will be home for his daughter Angela's wedding in April 2004.
Derek Wright is currently stationed at Fort Hood, Texas, but his parents recently got word that he could soon be going to the Middle East.
Derek Wright was supposed to get out of the army in May and was scheduled to begin law enforcement training in Alexandria, but his plans will have to be put on hold, as the military has placed a moratorium on discharges for at least a year, said Steve. Even though he's a bit angry that his plans have been disrupted, Derek knows he has a job to do and he is honored to do it, said Steve. "I'm glad he did it," said Steve of his son's decision to join the military. "I'm very, very proud of him."
The Wrights as well as the Stranskys have Blue Star Banners hanging in their windows. The Leyendeckers are waiting to receive theirs. The banners indicate that a member of their family is serving in the military, a tradition adopted during World War I. Banners can be obtained by local residents by writing to American Legion Post #271, PO Box 211, Paynesville, MN 56362.
---
Contact the author at editor@paynesvillepress.com • Return to News Menu
Home | Marketplace | Community
---