Recycling paperinto new paper
This article submitted by Linda Stelling on 3/31/99.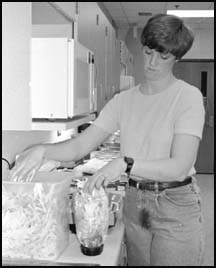 When you have completed reading this newspaper or the magazine you received the other day, don't throw it away, recycle it!

A person can turn that paper into a craft project by shredding it, chopping or liquidising it finer in a blender and then mixing it with water in a large tub. Kristi Glesne taught a community education class, the beginner's version of how to make paper.

Amy Miller took the class because she had seen cards made from the handmade paper and wanted to learn more about the craft.

Others in the class said they signed up because making paper sounded like fun. Glesne learned the process two years ago while teaching in Hutchinson. "The art teacher in the next room was teaching a class and the more I watched, the more intrigued I became with making paper," she said.

"I became more actively involved in making paper since moving to Paynesville," she said. "I have used handmade paper with stamping. The various fiber combinations add character to the cards."

Glesne said the more she reads about making paper the more excited she becomes. She finds it challenging to see what types of paper she can make from recycled items. "Anything that was at one time a plant fiber, can be used to make paper," she added. Glesne has recycled dryer lint, jeans, brown paper bags, newsprint, corn husks, copy paper, junk mail, construction paper, and even hair into handmade paper.

Among the items she has used to embellish (or decorate) the paper with include: Spanish moss, feathers, autumn leaves, herbs, corn husks, flower petals, glitter, gold leaf, jeans, construction paper, seeds, and pine needles.

"It is true that one man's trash is another man's treasure or at least a fun art project," she added.

Glesne said she has found that making paper can be a stress reliever and it is also a project a person can do with their children.

The only supplies needed to make paper are: water, a blender, medium size wash tubs, Handi-wipes, a mould and deckle (open frame the same size as the mould), heavy books, fibers to recycle, patience, perseverance, and a place that can get wet and messy.

The blender is used to help shred paper finer. By mixing the paper with hot water in the blender, the paper fibers take on the consistency of oatmeal. The fibers are then poured into a tub of water. A mould with aluminum screen fitted to one side and an open frame deckle is dipped into the mixture in the tub and when lifted out, appears to be a wet sheet of paper.

A two-gallon pail of prepared pulp (shredded paper) will make anywhere from 20 to 25 sheets of thinnish 8 by 11 paper.

Once dried, the handmade paper can be used to make cards, stationery, envelopes, or gift bags.

To learn more about making handmade paper, check the library or call Kristi Glesne, 320-243-8909 or e-mail: Glesne@lkdllink.net.
---