Easter post cards date back to early 1900s
This article submitted by Linda Stelling on 3/31/99.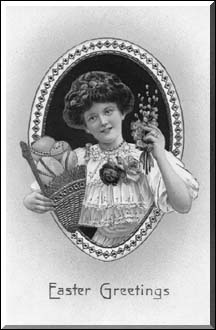 The use of post cards as greetings to friends dates back to the turn of the century.

Bertha Zniewski shares some of her Easter post card collection with Paynesville Press readers. Many of the cards have gold foil images or raised images among the brightly colored artwork.

Zniewski's Easter post cards date back to 1909.

In the United States most pioneer cards began with the Columbian Exposition in Chicago in May of 1893. Up until March 1, 1907, no message could be written on the back side of the card, only the address of the person to whom the card was sent.
---