PAHS students interviewed for jobs last week, learning skills that should carry them well beyond the classroom.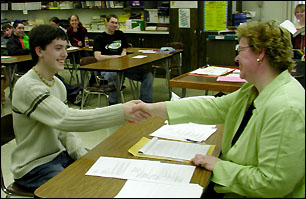 As part of a research project to learn about careers and job searches, juniors and seniors in Deb Ficek's language and composition classes participated in mock job interviews with community leaders last week.
Unlike real job interviews, however, these interviews were conducted in front of Ficek and the class. Once each interview was finished, the student was critiqued by the teacher, as well as by classmates.
Junior Jon Mohr greets interviewer Sheryl Fuchs before his mock job interview for language and composition class last week at PAHS.
"I think this is an excellent idea," said Sheryl Fuchs, of the Central Minnesota Federal Credit Union, who conducted one of the interview sessions.
Fuchs has participated in the mock interviews for the last four years. "Most of these kids have no idea what it's like to interview for a job. I think every kid should have to go through this," she added.
Fuchs interviewed six students last week. Using information from applications and resumes that each student provided before the session, Fuchs made up appropriate interview questions for an aspiring massage therapist, a future psychologist, and a budding optometrist.
Fuchs, who interviews real life applicants at the Paynesville office of the Central Minnesota Federal Credit Union, was impressed with some of the student's interviews. She would have called a few back for a second interview in real life, she said.
She was also impressed that each student was well dressed and she liked that Ficek offered advice on things like eye contact and how to answer and ask questions. One student interviewed by Fuchs was even reminded by Ficek that chewing gum during an interview may cost her the job, said Fuchs.
Ficek began the mock interviews about 10 years ago when she was a new teacher at PAHS. Remembering how ackward her first and only job interview was, she wished she could have done some practice interviews first.
She was certain that many of her students - even the ones with part-time summer or after-school jobs - had never done a real interview, so she added mock interviews to her class.
Before doing a mock job interview, students were required to complete a research paper on a chosen career. Then, students were required to write a resume for that career and to fill out a job application for a position in their field.
In some cases, students who were interested in a certain field, decided they didn't want to pursue it after doing the research, said Ficek. This could help students narrow down their career interests before making important decisions about college and careers.
Ficek was the first teacher at PAHS that made mock interviews part of the curriculum, she said. But now, several other classes do it, she said, giving students more opportunities to work on much needed job seeking skills.
Other guest interviewers for the class last last week were former business owner Walley Thyen and Carolyn Swyter of Farmers and Merchants State Bank.
---
Contact the author at editor@paynesvillepress.com • Return to News Menu
Home | Marketplace | Community
---