Milk prices hit $14.78 last week and appear to be climbing, which is good news to dairy farmers who have endured a four-year slump.

In the last 48 months, prices for Class III milk - the type commonly produced in this area and used to make cheese and butter - has averaged less than $12 per hundredweight two-thirds of the time. In fact, in the past four years, milk prices have averaged more than $15 for a month only five times.

And, while actual milk prices were climbing to $14.78 last week, milk futures were even higher, indicating that milk prices could go even higher in the next couple months.

As of Friday, futures prices were $18.39 for April, $17.45 for May, and $16.40 for June. In the short term, the actual price of milk usually follows the future price.

Since milk prices are based on supply and demand, this is a good time for producers because demand - especially for cheese - is high, and supply is slightly lower than in the past, said Eric Sonnek, a technical agriculture advisor for the Stearns County Extension Service.

Several factors could be responsible for the decrease in milk production, according to Matt Quade, manager of the Associated Milk Producers, Inc. (AMPI) plant in Paynesville.

One program gave cash incentives to dairy producers who reduced their herd size to boost milk prices by lowering production. So far, 33,000 dairy cows have been slaughtered under the program, said Quade.

A reduction in the production of Posilac - a hormone that boosts milk production - is also responsible for some of the decrease in milk production, said Sonnek, but he doesn't know how much yet.

According to Sonnek, cheese demand is high and the market is currently in the middle of a cheese shortage, but nobody can pinpoint where all the cheese has gone. Commodity buyers are looking for cheese, he said, but they are not finding sellers.

An upturn in the economy may be responsible for the surge in cheese sales, as well as an increase in popularity in high-protein diets, Sonnek added.

One rumor about the high cheese demand links the increase in cheese sales to the mad cow scare that shook the beef industry recently. This theory has countries turning to cheese instead of U.S. beef as a source of protein, but neither Sonnek nor Quade think high cheese prices are the result of the mad-cow-imposed beef exporting ban.

With cheese selling at record high prices, Quade agreed that a recent increase in cheese demand had increased the price of cheese. Quade said he did not know what is driving cheese demand, because he has never seen the demand grow so much so fast.

How long prices will remain high is anybody's guess, according to Sonnek, who pointed to the volatile market over the past several years. In the past six years, milk prices have climbed above $15 four times but have dropped again within a couple months.

Gerald Buermann, who owns and operates a small dairy farm north of Paynesville, is pleased that milk prices are finally rebounding but doesn't want to get his hopes up about higher prices. Many of his friends and neighbors have had to quit dairy farming, he said, noting that the last few years - with the exception of two months - have been pretty dismal for dairy producers. "If you ask me, farmers deserve a raise," said Buermann.

For the time being, higher milk prices should mean more income for farmers, according to Sonnek, in spite of an increase in production costs and a decrease in production for dairy farmers who use Posilac and can't get all they normally use. Currently, with high feed costs, and high fuel costs, producing a hundred pounds of milk is more costly for farmers, said Sonnek. But, if milk prices go as high as predicted, those costs should be offset by better prices.

According to statistics from the Stearns County Extension Office and the Stearns County Dairy Advisory Committee, in 2001, an average Stearns County dairy farmer milked 62.6 cows and each cow produced about 17,800 pounds of milk per year. So, for a typical dairy farmer, a $1 increase in milk prices equates to nearly $1,000 per month in additional revenue.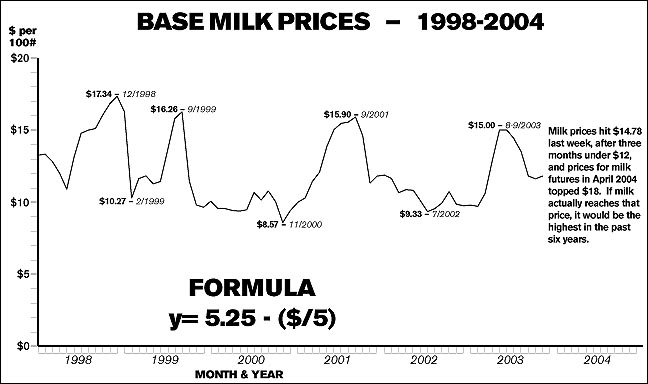 ---
Contact the author at editor@paynesvillepress.com • Return to News Menu
Home | Marketplace | Community
---