On Valentine's Day this year, Ron Karels wasn't thinking much about hearts. Instead, his mind was on kidneys, or to be exact, the healthy kidney that had been transplanted into his body just days earlier.

On Thursday, Feb. 10, Ron underwent a kidney transplant using a healthy kidney from his daughter Stephanie to replace his own failing kidneys. The transplant marked the end of a long year for the Karels family, in which Ron's kidneys started to fail, requiring nine months of dialysis and in which Stephanie (a 1995 PAHS grad) was identified as a donor for her dad.

Now that Ron and Stephanie have begun to heal physically, their church family at Zion Lutheran Church wants to help the family recover financially. The church will host a benefit on Saturday, April 9, at the Paynesville Area Center from 4 to 8 p.m. A silent auction and bake sale will be held from 3:30 to 7:30 p.m. Freewill offerings will be accepted, and Thrivent Financial Services for Lutherans could supplement any funds raised with up to $1,600 in additional funds.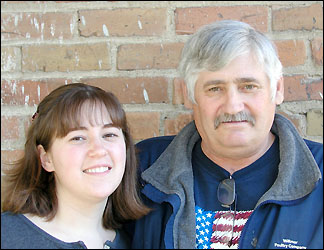 Ron, who lives in Paynesville with his wife Pat, was a healthy middle-aged man when, during a routine physical about five years ago, his doctor discovered a disease that would destroy the fibers of Ron's kidneys. Ron was told that if his kidneys failed he would be dependent on dialysis to clean the impurities from his blood and he would eventually need a kidney transplant.
Ron Karels recently underwent a kidney transplant using a healthy kidney from his daughter Stephanie. Zion Lutheran Church will sponsor a benefit for the family on Saturday, April 9, at the Paynesville Area Center from 4-8 p.m. with a silent auction and bake sale from 3:30-7:30 p.m.
Undaunted, Ron went about his everyday life: working at the St. Martin Co-op and being a husband to Pat, a father to his four grown children, and a grandfather to his four grandchildren.
Last year, however, Ron's kidneys began to fail, leaving him weak and tired, and by last summer he was on dialysis. Every night, Ron had to attach a dialysis machine to a catheter inserted in his abdomen, he explained. For nine hours each night, the machine did the work his kidneys were supposed to do.
At this point his own kidneys were working at about 17 percent, said Ron, while survival depends on kidneys working at least 25 percent.
Still, Ron didn't worry much, he said. He was still able to work - though he had some limitations - and he was confident that one of his 11 siblings would be a suitable kidney donor. Doctors had already explained that the best chance of a match would likely come from a brother or sister.
One by one his brothers and and sisters were tested, but by November it was clear that none of Ron's siblings would be able to donate a kidney. Seven had the wrong blood type, and the others had health problems that eliminated them from consideration.
Ron's children would be the next group to be tested, said Stephanie. But the process was long, taking more than a month for each person's preliminary medical testing. For financial reasons, only one person at at time could be tested, she added.
Two of Ron's daughters were eliminated as potential donors right away, he said. Stephanie was the next in line. "I kind of figured I would match," said Stephanie.
The family was notified in January that Stephanie could be Ron's kidney donor.
Stephanie never considered not being the donor, she said. The week before the surgery, Stephanie celebrated being able to give her father a second chance at life. "I threw a going away party for my kidney," she said laughing.
During the transplant procedure, Stephanie's healthy kidney was removed through a small opening, guided by small telescopes inserted through tiny incisions in her abdomen. Within days, Stephanie was ready to return home.
Ron's surgery was a bit more complicated, the pair agreed. Within 10 minutes of attaching the new kidney to Ron's body, it began working. Ron's own kidneys were left in place; eventually they will waste away, said Ron. "I have three kidneys now," he said proudly. Ron also returned home just a week after the surgery.
Ron has gradually begun to feel better. His energy is returning, but he was very sore from the 12-inch incision in his abdomen, and he probably will be for a while, he said.
Ron's new kidney could last for about 20 years, he said, but there is a chance that the disease that ruined his own kidneys could eventually destroy the donor kidney, too. And there is always the risk of Ron's body rejecting the donor kidney, in spite of the anti-rejection drugs he will have to take for the rest of his life. The drugs pose problems, too, making Ron more vulnerable to disease. Still he is grateful for a second chance at life.
Ron and Stephanie are also grateful their Zion family wants to help the family financially.
Six weeks after surgery Ron returned to work for just a few hours a day behind a desk, since he's not physically able to do all of his job. Stephanie is still waiting for clearance to return to her job at an optical lab in St. Joseph, since her job is physically demanding.
Ron's dialysis and transplant were covered by insurance,which is good since the dialysis cost about $15,000 per month and the surgery should cost about $300,000, he estimated, though he hasn't seen a bill yet.
Both Ron and Stephanie had short-term disability insurance to help pay the bills while they were recuperating, and Stephanie was awarded a grant for organ donors to help with day-to-day living expenses. But the bills keep coming, and insurance doesn't pay for everything, they agreed.
Ron has insurance co-pays to meet, and some of his drug aren't covered. In addition, both Ron and Stephanie, along with Ron's wife Pat, made regular trips to the Twin Cities hospital where the surgery was performed. "Gas is crazy," said Stephanie about one of the big expenses not covered by insurance or grants.
The Karels are great people, said Carol Jones, a benefit organizer. Ron is always ready to do things at church, so it was only fitting that the church do something for the Karels, she added.
With a catered meal of ham sandwiches and trimmings, and the possibility of supplemental funds from Thrivent, Jones hopes the benefit will be a success. Community members can help with the benefit by making donations to the silent auction, said Jones. Anyone wishing to make a donation can contact Jones at 320-276-8328 or Algene Otteson at 320-276-8281. Also, cash donations are being accepted at the Central Minnesota Federal Credit Union in Paynesville.
---
Contact the author at editor@paynesvillepress.com • Return to News Menu
Home | Marketplace | Community
---